just get happy damnit
Right. From now on I'll only blog about stuff that makes me happy.
Actually I'm happiest when I'm blogging. It doesn't matter that I'm typing as tears stream down my cheeks. Or I'll succumb into deeper depression as soon as I press the 'done' button' on the editor page. I'm happy as words are bursting through my fingers.
I'm going to have a facial today. I've had facials since I was 12 but it wasn't until I got to Auckland that I started to really enjoy having my zits getting chucked out with sharp metal tools.
I just got a 50% discount voucher from Borders in my Hotmail inbox. I've been a member of Borders' mailing list since last year (I think) and as far as I remember they've never given this big a discount. It's 35% most often. So the problem now is which book to spend it on. Hahahaha. I've always wanted to buy the Denise L'estrange-Corbet autobiography but I guess I'll still be reading Graham Hutchin's The Swinging Sixties, a book that my M2 editor gave me to review for the January issue, even after I get back in Indo. Thus I might get another book for my cousin...
Speaking of Denise L'estrage-Corbet, I'm so sorry that she's recently split up with her husband Francis Hooper. They're my fave couple in NZ fashion :)
I can go on and on but I have to clean the apartment again for the next visitor!

Listening to: Julie Andrews - My Favourite Things
Friday, October 31, 2008, 11:18 a.m.
|

hell breaking loose again
Fuck.
You don't bloody understand.
Wait a minute.
Why should you.
You married young and have a husband to take care of you and that kid to keep yourself busy with.
She has parents to fall back on. A pair of concerned olds ready to bail her out should she find herself waking up in the slammer.
Call it 'life experience.' 'Life experience' that I lack. Or what-have-you.
I have none of that. I have only these crazy, crazy thoughts that some even crazier people tell me to embrace instead of fight.
And the whole fuckin' lot of you. Why just stare, talk to me goshdarnit. Talk. Leave me comments. Or else risk seeing your full names here in a negative light.
I'm serious.

Listening to: Tatu - Happy Smiles
Thursday, October 30, 2008, 05:47 p.m.
|

first serious reflection on life?
I'll be straight up honest with you: I only blog when I have peace of mind. If I'm happy I blog even though I'm busy as hell.
So from the scant number of posts this month you'll notice that peace of mind is a luxury these days.
I've really come to terms with going home to Indo.
Really.
That's coming from me. You're not kidding yourself.
I've put up ads on my apartment looking for someone to continue my contract so far I've got many responses. Three potential new tenants have viewed my apartment and I'm to have two more coming over today. I've booked a flight home for November 18th, but I'll possibly move it forward. Yet I'm still hoping for that one miracle. An early Christmas present for Christians and an impending Eid present for Muslims. A full-time job.
The first thing I do after waking up is...cry. I grab the Allah and Ka'bah pendants hanging off my necklace and pray. I've never been so driven with worries. With an abundance of uncertainty. I miss my mum. I miss my pre-NZ life. I miss uni. I miss work. What if of all these potential new tenants none of them would take over my contract. And that would mean I'd have to pay around $3,000 to cover the rest of my contract, which expires in March 2009. God my family doesn't have that much money. God why aren't you listening to me. Why don't you lift these worries off my mind. I'm fed up with all this uncertainty. Why don't let me breathe easy. Please be kind to me, as you were about with my graduation...
But nowadays when I've finally gathered up the strength to get off bed and go online, there's always an e-mail from someone with queries about my apartment. I think of it as a good start to the day.
Simple pleasures in life I'm still trying to be grateful about and enjoy every nanosecond of...
Spraying my new perfume. It's the super heavenly Miss Dior Cherie!
Experimenting with fashion everyday, without fear of ending up looking like some celebrity off Mr. Blackwell's (RIP) worst dressed list like I do in Jakarta. Kiwis are either as experimental or boring dressers!
Continuing the long-standing habit I acquired back in my student days...A good book and latte! Hahaha...
Enjoying my last days in New Zealand. At least that gives me a good excuse for hanging around like an idiot in town!
Thinking about the 90% bond refund I'll get when I get a new tenant to replace me. Money...that's what I want.
Even though I have my doubts about practically everything these days, I still believe that the afore-mentioned miracle is just around the corner.
Hanging out at night at my favourite new haunt...not gonna tell you where. At 08:00 PM I'm usually their only costumer and I can chat with the owner (who, as fresh Auckland Uni graduate in 2001, had the exact same problems as I do now) undisturbed. Bliss.
Enjoying my apartment to the maximum...It's a lot cleaner now because I have to clean it a lot more often due to the comings and goings of prospective new tenants.
Love life.
Thank you God for my life.

Listening to: nothing
Wednesday, October 29, 2008, 02:15 a.m.
|

of songs and memories
It took me several listens to let Marit Larsen's first single off her latest album (released October 13, covered below), If A Song Could Get Me You, to grow on me. Listening to it, it reminds me of my grandma's place. The folksy feel lends a '70s feel (at least to me) and the 1970s have frozen at grandma's home. I spent my early childhood with my grandparents, and though I honestly can't recall ever hearing folksy '70s songs (particularly Scandinavian ones) while being a wee kid at gram' place, If A Song Could Get Me You sets me reminiscing about (or creating images of) my kiddy self rummaging through pictures of Scandinavian scenery at gram's storage room. I guess grandma did have pictures or paintings of Scandinavian scenery, and I think she still has them...Herself being an exquisite keeper of old stuff and that she passes on to my mum but not to me. And then the song sets me thinking about the storage room, which is nothing like your typical storage room. It's really tidy, for one, and it doesn't smell musty. It's got pictures of my great grandparents on my maternal grandpa's side, 1988 calendar of Princess Diana that my aunt brought from London after finishing uni, and lots of new-looking old stuff...My most favourite thus far is a musical jewelry box with a ballerina on top (tres classic!) that plays Morris Albert's Feelings. Now that's a GENUINE '70s feel.

Listening to: nothing
Monday, October 27, 2008, 11:00 a.m.
|

pink...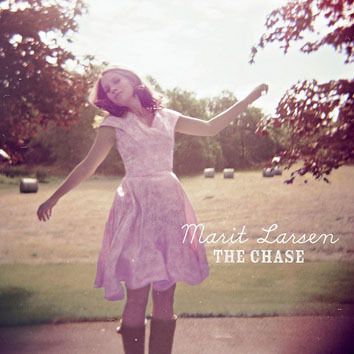 Does anyone remember Marit Larsen of M2M fame? You know, the Norwegian girl duo who shot to fame in late 1999 for doing a song off the poptart-loaded Pokemon soundtracks? Well if you do, chances are you remember the other half of the group, Marion Raven, better. Marit (pronounced like 'Marie') was the 'little girl' of the two, her image served to counter Raven's 'sexy vixen.' In an interview in the wake of M2M's rise, the then 16-year-old Marit stated that she hated wearing pink because it made her look like a 12-year-old.
Nine years later, things seem to have changed...Listening to: Aerosmith - Pink
Wednesday, October 22, 2008, 03:11 a.m.
|

a dramatic note to self
Julia Gregson,
Thank you ever so much for writing a letter to your 25-year-old self. Might as well speak to me, 25 years old and so lost in the world. At 18, I chucked pieces of advice about studying law or science or business and set about studying English language, then English literarure and films at 22. Now 25 (yeh ok I can't stress this enough) and feeling inadequate for any proper job, each day is a battlefield as I struggle to find my smile. Something to cherish. Something to be happy about.
When I do find something to smile about, it is this noise inside my head. Things waiting in the wing to be discovered. To me they're like little children, so adorable and bright yet so shy, they feel like they can confide in me only. Only to me they trust their stories to be brought to the world. And I won't disappoint them.
Go confidently in the direction of your dreams! Live the life you've imagined. As you simplify your life, the laws of the universe will be simpler. Julia, thank your 25-year-old self for jotting down the Thoreau quote on her diary! Just like my journey to New Zealand, the land almost forgotten to anyone outside the North and South Islands, I'll go boldly where no one has gone. Where everyone warns me against. I may be a twat. I may not make it. But as I said earlier, I can't let my children down. I can't let myself down. I can't let go of my dream.
To hell with the Joneses.
Or the Widjajas.
Or the Kims.
Or the Nguyens.
Or the Tans.
I want to be a writer.

Listening to: nothing
Friday, October 17, 2008, 05:18 p.m.
|

clarification....
Ok. Ahem. To clarify, I don't work full-time at M2. Not even part-time. On my second day, Andre told me that they had no budget to pay an intern, but he offered to pay anyway because he was impressed with my CV as well as my dedication...On my first day I actually worked until late at night, and I had no idea whether or not I'd be paid, and that apparently moved him. Hahahaha. Since most internships don't pay, I guess I was lucky that I got paid at all. I was so thrilled when I found out about it...and when I'm happy I tend to exaggerate things a little. There. One of my biggest secrets and worst habits out.

Listening to: nothing
Saturday, October 11, 2008, 06:06 p.m.
|

hello from the office...
Hey there kiddos! I'm making this quick entry at the super cozy office of M2, a.k.a my new workplace...That's right, I'm not hanging around unemployed anymore. Not crying and pulling my hair out anymore. Andre Rowell from the world's greatest men's magazine (yes I'm a chick working for a men's magazine...one that doesn't need scantily-clad chicks to glorify itself if you haven't checked the website out) has saved my life! Oh yeah, I'm starting as a proofreader. Here's hoping I'll graduate to proper writer soon...
Watched Brendan Fraser's Journey to The Center of The Earth on Saturday. What a disappoinment. I should've had a closer look at the poster, which very clearly highlights the Fraser, plus that kid, and that Icelandic actress as opposed to three grown men in the original Jules Verne version (which I love so much and made me wanna see this flick in the first place.) The poster speaks volumes about who the flick's demographic is: kids. What really upset me, though, is that they removed my favourite bit off the original version, which is when the three explorers discover a prehistoric human being about 13 feet tall. They don't do anything about the giant that could very possibly be one of Adam's sons. They're drenched in silent terror, realizing that this ancient human being is the most dangerous of all the beasts they've encountered before: the T-Rex, the mastodons, other supposedly long-extinct animals that are actually still alive and well in the center of the earth. It's that silent terror that captivates me. The emotion it evokes. The feeling of finally meeting your match, an equal that can actually outlast you. And that, in this case, makes sense because although dinosaurs are much more fearsome their brains were much smaller, so they could still be outwitted. The prehistoric man and the modern man, although their brains differ in capacity, are at least on a common ground when it comes to outwitting other creatures on God's green pastures. To me, what Liedenbrock, Axel, and Hans feel toward the prehistoric man is like this fear within you that even though you love and trust your bestmate so much, deep down you know that if things go sour your bestmate is the most likely to plot against you.

Listening to: nothing
Tuesday, October 7, 2008, 10:31 p.m.
|

know your adonis part 1
Hey everyone!
First up, have a joyous Eid Mubarak to all my fellow Muslims all over the world! Here's to many more rounds of Ramadan to come! Ramadan - the best way to lose weight AND save money...It also provides the best excuse to spend the hard-earned (and hard-saved) cash in the name of celebrating the end of a month where it's an obligation to wear a heart that shines through your chests, namely Eid. New clothes and cookies and sweets all around!
Forget the Eid brouhaha, let's feed my current male model obsession. Anyone heard of Lucas Babin? No? No surprise...I'm not sure what this guy's best known for either. Either his role as Spider, Jack Black's character's substitute in his band, in The School of Rock or that of Paris Hilton's squeeze in her music video Stars Are Blind. Both roles make him look dumb. But dumbing down aside, this guy is hot as lava...Or used to be hot as lava.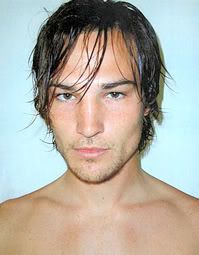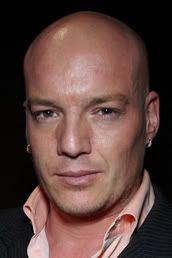 Bald Babin's picture was taken recently (no idea how recent), and I stole it off Wikipedia. Seriously, whatever happened to such a pretty face? There's no report on him drug-abusing, so maybe it owes to the stress about breaking into the music industry? In 2005 he released a self-titled album that was on sale mainly in Brazil, where he also worked on a TV series, America (a single off the album, Little Girl, can be accessed on You Tube.) The album obviously went unnoticed, and as is normal with genetically-blessed aliens known as models when they try to branch out of their designated field, his musical flair was most likely undermined by his good look.
Looking back some 25 years ago, there was in Babin's place a male model called Jon-Erik Hexum, who in 1984 killed himself accidentally by pointing a blank-filled gun at his temple and pulling the trigger in a movie set. It was supposed to be a prank, but what a deadly one it was. In 1983, Hexum rose to fame by starring alongside Joan Collins in a TV movie The Making of A Male Model (how aptly titled!), in which he plays a Nevada ranch minder turned into a modelling superstar.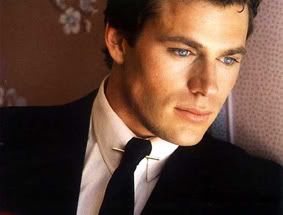 Jon-Erik Hexum (1957-1984)
A clip of Making of A Male ModelYou see, if there ever were someone crazy enough to remake this remarkably campy '80s piece, I'd suggest he hire Lucas Babin in Jon-Erik Hexum's role. Jon-Erik was the personification of the female lust object (he was posthumously featured on Playgirl), and so is Lucas Babin some 20 years later. Little is known about both models' personal lives and to the public eye these two are unthinking beefcakes, nothing but physical beauty. The ultimate male models from different eras.
But wait a moment...if Making of A Male Model were to be re-made some parts would have to be changed. Ask anyone actually growing up in the '80s and granted he wouldn't be able to name any male model. That is, guys appearing in ads such as Armani and Dolce & Gabbana as nameless pretty faces first, known later as, well, models. Not famous singers or actors endorsing brands, mind you. From the '90s we can name Tyson Backford (the Black-Chinese model described by AskMan.com as 'not the sharpest tool in the shed.') and Marcus Schenkenberg (who's part Indonesian teehee!) However, as for the 2000s...hm...honestly the only name that comes to mind is, of course, Lucas Babin. Wait, there's Paul Sculfor, but Pauly built his fame mainly by dating luckless-in-love Jennifer Aniston, so no...I want a male model that's truly known for modelling.
So yeah, if ever there were a remake of Making of A Male Model, that should celebrate the rebirth of the male model as none of today's male models achieved the height of fame Beckford and Schenkenberg did, as opposed to the original version's celebration of the male model emergence. Also, as opposed to the macho image characteristic of the Reagan era highlighted in Making, the remake should show the leading man's feminine (read:metrosexual) side. Ah well, why not make Re-making of A Male Model: The 25th Anniversary already!Listening to: M2M - Pretty Boy
Thursday, October 2, 2008, 11:34 p.m.
|


Educated at Universitas Indonesia and The University of Auckland, Isyana has a vast interest in the academic side of popular culture, which is exactly what her degree is all about. She takes pictures, sips latte, reads, and memorizes details like she's going to give Hercule Poirot a run for his money as pastimes. Born in Indonesia on May 14 1983, she is a Taurean, which means she would rather carry a Rip Curl bag than a very good fake Burberry one. Her employment in the past five years includes The Auckland War Memorial Museum, The New Zealand Fire Service, Trade Aid, and Auckland International. Wanna drop a line?


Layout designed and coded (the very old-fashioned way) by me. The photograph (of Kiki Chen and Rachel Maggiolini) was, as usual, also taken by yours truly in another Photosoc outing in August 2007. The location is Auckland Domain's Winter Garden. Except the background image (courtesy of Squid Fingers), fonts (thanks to Dafont), counter, fanlisting and clique codes, everything else on the layout is my creation and therefore copyrighted to me. Best viewed on 1280.720 IE. Don't steal. This website has been online since April 2003.
Entries from April 2003 - July 2008
August 2008
September 2008