Isyana Arslan is a proud alumna of Universitas Indonesia, from which she gained a diploma in English as A Second Language (ESL), and The University of Auckland, from which she obtained a Bachelor of Arts (BA) in English Literature and Films, Television, and Media Studies (FTVMS.) She also proudly calls Jakarta, Indonesia, and Auckland, New Zealand, home. Isyana is now working full time at Sunrise Solution, a Japanese BPR company, as a translator. She dreams of having a best-selling novel in stores, a successful online store, and settling back in Auckland in five years' time.

Layout designed by yours truly, as always. Photograph taken also by yours truly, of an unknown woman walking past a fancy gift store Iko Iko, which is situated at the legendary Karangahape Road (vintage store heaven, red light district, and more), in Auckland, New Zealand. Background image is courtesy of Squid Fingers and the fonts Dafont. Looks good on all browsers :)

April 2003 - July 2008
August 2008
September 2008
October 2008
November 2008
December 2008
January 2009
February 2009


















The Tao of Conrad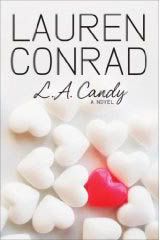 Lauren Conrad's book to be released in June! The cover's cute, very Lauren Conrad, but even people with a two-digit IQ can tell that the book sells the celebrity of LC rather than good story-telling. For one, the author's name is about three times bigger than the title. Secondly, this book's called LA Candy, which is about a girl who moves to LA to find herself embarking on reality TV stardom. Um, sounds familiar?
With the demise of her fashion line, I hope Fraulein Conrad will one day look outside herself for inspiration to capitalize on. Because while I admire her willpower in building a business empire, her products are predictable due, in my humble opinion, to the lack of exploration outside her shell.
However, if I were to choose between The Lauren Conrad Collection and Heidiwood, fellow Hills star Heidi Montag's clothing line, I'd go with the former. Heidiwood is like Supre or Valley Girl in terms of low price and low quality fabric, except Heidiwood has a dash of sluttyness squeezed in. Lauren Conrad's line is at least designed with class. Oh, and in case you just came out of a cave in Timbuktu, Heidiwood also tanked.
Off topic, happy 26th birthday to my baby girl Marisa Theresia Tanojo (nee Tanumihardja)! All the best for you and the baby on the way darling! Listening to: nothing
Saturday, March 28, 2009, 07:10 a.m.
|

give thanks thursday part fier

I'll keep it short. Thank you God for my life, my job (boring as it is sometimes but there's a clear corporate ladder to climb if I decide to stay past my one-year contract), my stint at UI and Auckland Uni, my amazing 3.5 years in Auckland (the 3 years were indeed amazing, the last several months I was free-falling, but overall it was like a holiday!), the fact that my figure is far from perfect but it doesn't deter boys from trying their luck with me (hahaahaha), my boyfriend (I love you Pilar Muhammad Mochtar! Kisses kisses!), my weekend treats (movies with my baby, pampering sessions at the beauty parlor...), my literary treats (I already know what book to get after I finish my current one, Freakonomics by Steven Levitt and Stephen Dubner!), and planning world domination in five years' time hahahaha...I love having my sight on what might be in store for me by 2014. I might run a successful business, have a novel or two that have a cult following, and resettle back in NZ or somewhere else more exciting. Last but definitely not least, I love it that I don't have to be perfect, nor do I have to be someone I'm not, to get by. I have my flaws, I can't help unintentionally tricking people into thinking I'm 12 instead of 25 for one, but they seem to embrace those flaws.
Thank you God. How could I ask for more.Listening to: The Corrs - Borrowed Heaven
Thursday, March 26, 2009, 10:12 a.m.
|

rasta dan bella, the book and tv series
I've no idea my fave book Rasta dan Bella has been adapted into a TV series starring...Paramitha Rusady. What role is she playing? Bella's mum? I thought Bella's mum had almost no prominence in the book?
Or maybe Zara Zettira ZR and Hilman Hariwijaya, the authors of the book, decided to update their early '90s literary hit to adapt to the current happenings (e.g. old fans having grown up) and/or producer demands. Maybe Paramitha Rusady plays the 30-something Bella? Hahahaha. I have no time for TV nowadays and there's little info on the Rasta dan Bella TV series on the net. I like the idea of the '90s teenlit getting a grown-up treatment for the TV series, but I'd also like it if they kept the originality of the book (which definitely includes the early '90s setting with NKOTB and Kylie Minogue at the peak of teen idol stardom.)

Listening to: nothing
Sunday, March 22, 2009, 09:10 a.m.
|

the silver fern entry
Omigod omigod I miss Auckland! Hahahahaha. I had a dream the night before last night where I went back to Auckland to pursue a Master's, but hadn't enrolled in any paper. In front of Old Choral Hall I bumped into Vivian (I miss you I miss you x 1000!), my pretty Hongkie bestbud who's also done with uni and left NZ for good three weeks after I did. We hugged like two madwomen, she said she sprained her ankle, and was going to see a Chinese traditional healer who doubles as a psychic. She said this guy read your feet instead of your palms and, intrigued, I decided to come along to have my fortune told. Once at the healer-cum-psychic's, I laid down and the guy said he saw signs like a camera and a suitcase on my feet. And as I got off bed, I saw a sign like a snake on the healer/psychic's feet. That's it, and then it was reality for me - I woke up.
Sod crazy-possibly-cognitive dream, here are three clips by NZ musicians that you really should take notice.


Clap Clap Riot - Don't Want Your Baby. The video was shot at Customs Street, near my apartment!
Atlas - Crawl. This was filmed entirely at this place called Britomart, where you catch trains and busses. Britomart is just opposite the spots at Customs Street where the Clap Clap Riot video was filmed, and I bet this one was filmed in November or December 2006 when I was holidaying in Indo. Because, you know, Brito is pratically every Aucklander's daily stomping ground, there's no getting around that fact. I would've witnessed the filming had I been in Auckland, and the video was out by the time I arrived back in A-town in January 2007.
Duchess - Raglan City. The title's self explanatory, so we're not talking about Auckland...Raglan is about a three-hour drive from Auckland. My Canadian mate Karen and I took crazy pictures at the Whale Bay Reserve signboard, and if you like surfing you ain't lived yet unless you've ridden the waves of Raglan! In fact, Raglan is the only place in NZ (if not in the world) that has surfing included in school curriculum :)Listening to: Ladyhawke - From Dusk 'Til Dawn
Saturday, March 21, 2009, 09:57 a.m.
|
Yay I'm catching on Icing's TILT again! After a couple of months! Ok, so here go things that make life worth living...

My boyfriend. Hahaha this is pretty obvious. He's a major, major upgrade from my previous boyfriends and flings. Those guys were BOYS. I admit I went out with them partially because of their looks, and it drove me bananas when they, uh, acted their age. You know, like boys. They wouldn't talk to me for days (and in some cases, months) on end if they thought I turned down a dinner offer (when I was actually asking for a reschedule because I was busy.) They left right away when I refused to go under the blanket with them. Some of them, when they were talking to me at all they told me lies. Gah. Wonder why I put up with so much shit? My boyfriend's physical appearance is nothing on that of my past boys', but he's all man. He treats me like a real lady (and he babies me at times too!), and you know what's really enticing about him? As I said in my March 16 entry he was once married, he became disillusioned with his dream job and, at 32 when guys his age are rolling in the money, he's willing to start over. All that spells out lots of life experience, and I find that sexy.


My French porcelain doll, Margaux, which I bought in Paris in July 1995 for F65. Yes still remember the price because I had to sweet-talk ma maman to buy me the doll LOL. I've always had a thing for porcelain dolls and it's my obsession to collect porcelain dolls from all over the world. Margaux is by far my only doll, and here's hoping I can add more to my collection...soon-ish.


Youniverse! This is like a modern-day Quizilla, sans such nonsense as 'Which Heroes Character Are You?'...


The fact that I have a job at all. It's true that my current job can be such a bore at times, but at least the money's good, my co-workers even better (well one of them can be a bit of a bitch at times, but what's a rose without thorns...), and there are tens of thousands of people out there dying for a job. Up to January I was one of those people.

I think I'm gonna end every TILT I do with a mention of a random favorite book. This time it's Jazz by Toni Morrisson.
Listening to: nada
Thursday, March 19, 2009, 06:08 a.m.
|

not so long overdue update
It's been a totally hectic fortnight at the office, and will continue until April Fool's Day. Plus one of my supervisors and I are on the rag. Yes, tears have been shed, but my baby's making it all bearable!
EDIT: There's no mention anywhere about Joey McIntyre of NKOTB and blind American Idol season 9 contestant Scott McIntyre being related, but there wouldn't be any surprise if they really were relatives. For starter, there's too obvious fact that both musicians share a surname. And then check this out.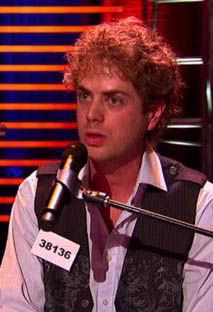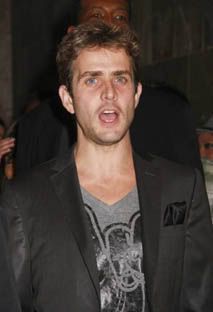 They even have the same type of face! Same gene pool, anyone? Listening to: nothing
Wednesday, March 18, 2009, 07:07 a.m.
|

long overdue update
Pitas was down this morning for the first time since either 2004 or 2006, but Andrew (the owner) just wouldn't do anything about it. Bet he didn't even notice. The 'newest' item on the news page is from April 2004.
I will never delete my Pitas blog no matter what even if I finally haul my ass somewhere else. This blog has a lot of history, and this April marks the 6th year of its existence in the world wide web.
Oh yeah, I don't think one can delete his account on Pitas. Once he signs up the account is gonna stay there for life, even if it's never updated. Pitas is that old-fashioned, and probably Andrew means it to be a museum piece, a showcase of what a late '90s/early 2000s blogging tool looks like.
Off topic, I'm happy to announce that I'm off the market as of March 9 2009. My boyfriend is this cute 32-year-old divorcee who grew up Stateside, got his Master's in Holland, and was in the Ministry of Foreign Affairs for five years. LOL. Odd thing is he googled my name and read my blog (as well as its archives) before he asked me out on a date for the first time. He apparently read my super old Diaryland archives too, the ones dating back to early 2002-early 2003, because he once brought up me doing German...way back when. LOL. Oh, and before you ask me, he doesn't have any children from the previous marriage.

Listening to: Nothing
Monday, March 16, 2009, 09:01 a.m.
|

a mixed bag, as usual
Happy belated 27th birthday to Shane and Ricky! Also happy 20th birthday to Shyra! Love you guys always :)
I'm so so infatuated with Emilie Simon and you should too! Check out this clip for Fleur de Saison - too beautiful to be missed et j'aime sa voix!

Out of boredom a couple of days ago, I googled images of Queen Street, one of my former stomping grounds in Auckland. Looking at the pictures, mostly in high resolution, it felt just like staring out the window. And as could be easily guessed, I felt a pang of longing. Had I done this when I'd just arrived from Nouvelle Zelande, I would've soaked in tears. No no, I wouldn't have been able to bear to look at it at all.
Aaand some Auckland Uni first-years have come across my blog by the keywords of "Is FTVMS 110G hard?" or something similar. No, little ones, it's not hard. It's tons of fun and the paper has my seal of approval! Also watch out for the viral ads - it would make you laugh to tears.Listening to: Emilie Simon - L'anamour
Friday, March 6, 2009, 06:36 a.m.
|

Hello March!
Hey everyone! First of all happy 26th birthday to Carlos and 22nd birthday to Rachel! I hope you guys have good ones :)
I'm soo damn relieved because finally this site looks good on both IE and Mozilla Firefox! Hahahha. No I didn't figure out CSS Div codes, for half of my code have always been in CSS, but man did I make a HUGE mistake by removing something on the link and font fronts. Fixed now, as you can see :D
I wish Pitas had a feature for editing really old entries because I'd love to edit my Northhead layout. It's in use for my April 2007 - May 2008 entries and it's one of my fave layouts. It want it to look good on Firefox. But until I have someone to coach me figuring out Wordpress and Blogger (already have an account on each site), I'm not moving anywhere.
Also, how do you remove the bloody rate stars on top of my comment book? I ticked 'de-activate rate stars' on my Halo Scan settings multiple times but it doesn't seem to work >(

Listening to: nothing
Wednesday, March 4, 2009, 06:44 a.m.
|