Isyana Arslan has just put her great New Zealand adventure to an end, spanning 3,5 years and for the most part it was studying English Literature and Films, Television, and Media Studies (FTVMS) at The University of Auckland. Armed with a BA from the said university which she obtained in September 2008 and a diploma in English as A Second Language from Universitas Indonesia that she obtained in 2005, Isyana is now seeking an employment that allows her to be creative and throw a hissy fit or two (jokes.) In the meantime, she enjoys being the latest addition to La Rose Bootcamp (don't ask), trying her luck on the Indonesia, Singapore, and Malaysia job markets, and feeding her addiction to Bear Brand White Tea Milk.

Layout designed by yours truly, as always. Photograph taken also by yours truly, of an unknown woman walking past a fancy gift store Iko Iko, which is situated at the legendary Karangahape Road (vintage store heaven, red light district, and more), in Auckland, New Zealand. Background image is courtesy of Squid Fingers and the fonts Dafont. Best viewed on IE. Call me a nanna or what-have-you, but I'm never a fan of Firefox.

April 2003 - July 2008
August 2008
September 2008
October 2008
November 2008
December 2008

















letter to your past self challenge II
Sup 23-year-old me,

Stop whining about being at the peak of a quarter life crisis! You're smart enough to know you're not out in the real world yet. You're still in your shell where the only things that matter are school, Starbucks, boys, and how to get a part-time job. What you started to develop at 21 might indeed be a quarter life crisis, but where your shell is concerned you're at an early stage. Hell, you might not even be in a crisis at all!
So sit back, relax, go to the AV library (Rosemary's Baby is a gem awaiting discovery), see a tutor, stalk the boys (they love it), and pay more attention in Ambassador works! In terms of boys, I'm happy to announce that as soon as you blow the candles on your 25th kumara birthday cake those guys won't matter anymore. You'll be too busy solving the "YOU'VE GOT THE DEGREE, WHAT NOW?" riddle, the biggest in your life yet, that there simply won't be any room in your mind for them. That riddle is the benchmark in the real crisis, so enjoy life for now...It will wrap up before you know it.
So. What's on for today? Duchess of Malfi? Reading on realness? Level 0 madness?XO,
Isyana from the near futureListening to: nothing
Sunday, January 25, 2009, 04:14 p.m.
|

letter to your past self challenge
Hey there 22-year-old Isyana!

I know, I know. You're getting all worked up with excitement. You're going to New Zealand, about to attend one of the best universities in the world. Just two years ago you said you'd settle for any school, even a Chinese-run English course place, as long as you could have a taste of living abroad. All that patience is going to pay off now! All that trying to learn English to the point of sounding almost like a native! All that going to the movies and parties yourself...All the independence...All the preparation for this one goal you've dedicated your entire 22 years for: an overseas university degree.
It's hard to give a thought to anything else when your life-long dream is about to become reality, but please consider this. When you get that precious University of Auckland certificate you'll be only 25 (I'm sorry, not 24 as you plan, but you'll be ok with it in time.) No, 25 years old is not old, nor is it so far away, and no your life isn't gonna sort itself out after uni is over. Have a second goal. Your life has only just begun, and it's not the way to go to have only one goal you intend you achieve by the age of 25.
Find the one thing that really interests you the most, or pursue all your interests. And whether you decide to pursue only one or all your interests, just make sure you keep going. Look for part-time jobs too. Go to this nice hotel called Langham, near your future campus, apply to be a chambermaid. Ask for a job application form at Starbucks. Make this your mantra: I don't want to be left with a gigantic WHAT NOW? bubbling through my mind after I've got my degree in hand.All my love,
25-year-old IsyanaListening to: nothing
Saturday, January 24, 2009, 11:36 a.m.
|

exposed...
If you're in Indoland whether or not you follow closely the atrociously messy divorce of Dhani Manaf and his now ex wife Maia, you can't get away from another saga within the saga. One that involves Mulan, the second lead singer of Maia's band Ratu, and her replacement Meychan (definitely not her real name, which I can't recall, but if you're the lead singer of Ratu you'd have go by ridiculous monikers that Maia picks for you such as that.)
This recent picture of Meychan was taken during the filming of Ratu's new music video, which I really couldn't care less to find out the title of (actually I think Maia and her follower don't go by 'Ratu' anymore...is it Duo Maia now? Who cares) and this is Meychan posing as a, er, club Halloween leopard. According to Detikhot.com, the whole leopard thing was Meychan's own brainchild. I guess she should've rephrased. Meychan should've stated that she came up with an idea of channeling the Duty-era Ayumi Hamasaki.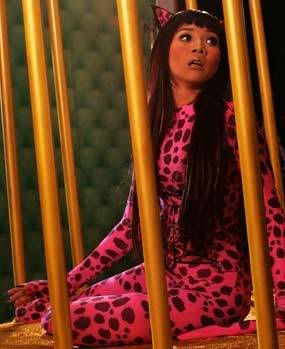 Meychan, January 2009.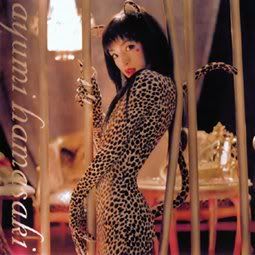 Ayumi Hamasaki on the cover of her 2000 album Duty.Listening to: nothing
Thursday, January 22, 2009, 07:35 p.m.
|

what a mischief....
You.
Why the hell do you keep googling your bestie eh?
She's right. You're the bigger creep.
On second thought, keep going.
Keep going.
This is incredibly interesting.
You bring bromance to a whole a new level!

Listening to: nothing
Monday, January 19, 2009, 01:32 a.m.
|

the first resolution in ages
Hey.
So I missed Things I Love Thursday but it doesn't matter. I was kind of having a bad day and it was hard to figure out if there was anything I loved under the sun.
Contrary to the past few years in which I had no new year's resolutions, I do have one for 2009. It's either moving to Singapore by July or back to NZ before December. I'll be doomed if 2009 turns out to be my first full year in Indonesia (read:humanity blackhole) since 2004.
And you can bet I'll stick to it.

Listening to: nothing
Friday, January 16, 2009, 01:23 p.m.
|

updating for the sake of updating II
Hey guys!
I've been talking to a guy that I thought I went to secondary school with, because he found me through the school's alumni mailing list. We can't recall if we were ever classmates though. He's a fun dude, works at a Bakrie company and seems to live a flamboyant life (breakfast at Mulia and Hilton for two days in a row, anyone?), which I'm oh-so-jealous of. Just recently it hit me that not only did we go to the same junior high (though we were never classmates), we went to the same primary too, and were classmates in years 5 and 6. Boy, was he a sissy one at the time! He was cute, but weak-looking, and he would cry when someone jokingly pulled down his trousers in public. That was the prank of the period. Guys would pull each other's trousers down, girls would lift each other's skirts up. We were a bunch of lunatics, even at such a young age.
The daughter of my mum's Shalawat friend got married yesterday to a Norwegian man she's known for only 3 months. The two met on the internet. Thing is, these two speak limited English. How do they communicate I wonder?

Listening to: nothing
Sunday, January 11, 2009, 12:12 p.m.
|

TILT - the music edition
It's that time of the week again! TILT time! Woot!
Ofra Haza (1957-2000)! I probably will get death fatwas in my commentbook for raving about an Israeli singer, given what's going on in Gaza at the moment (my thoughts are with you), but seriously who cares. LOL. When I first came across her Im Nin Alu video on Channel V in 2001, I swear I'd never heard of her before but I can also swear that I could sense this songstress was dead. That same day I googled her and yes, indeed she passed away a year before - of AIDS. Same as when I came across a Teresa Teng album for the first time at a local record store. I never heard of her before but I knew right away she was dead. Death aside, anyone would agree with me that Ofra had a voice that's clear as a bell on earth as well as beyond the grave.
That's Im Nin Alu, the original version released in 1978.
The version that became a worldwide hit, released 10 years later.


Listening to Tommy Page's album A Friend To Rely On before sleep. It's his third album (I think), released in 1992 and I used to listen to it on the way to and from school in fourth grade. Listening to the guy again before dozing off I've done since summer holidays 2006 and since the album's in the casette form I never took it to Auckland because I had no audio set. Don't worry if you don't remember the Page boy. Even if you do remember the late '80s and early '90s chances are you wouldn't remember him anyway because, well, he wasn't exactly the Justin Timberlake of his time. The dude got kind of famous because he was in one episode of Full House, and collaborated with NKOTB a few times. A Friend To Rely On is cheese-tastic, the level of cheesy-ness is I think a notch above the Disney artists, which is shame really because Tom was 22 when he put the album out. But anyway, anything that puts me to sleep always does ok in my book.


Amy Ip Chui Han is damn talented! Check her out!
Listening to: Britney Spears - Circus
Thursday, January 8, 2009, 11:27 a.m.
|

updating for the sake of updating
Hello.
This is not a good start to a new year. I'm having a bad case of flu.
Need to resist the urge to laze around and fantasize about that someone (muahahahaha) when I'm supposed to be working on the store. Going to upload more pictures of the goodies now.
Yes Jean please do buy something! LOL. Buy bulk when we do meet up this month!
Also, happy 27th birthday to Renee and Anton! Here comes the late-20s-dom already hey! Before I know it it will be my turn, and that thought alone sends shivers down my spine. Have an earth-shatteringly good birthday though!

Listening to: nothing
Tuesday, January 6, 2009, 12:06 p.m.
|

melk en suiker...
Irene and I went to a Dutch eaterie in Birkenhead called Dutch Delight on one of my last weekends in Auckland. The food's good, and while we were waiting for our poffertjes and other delicacies one ornament in particular caught my eye.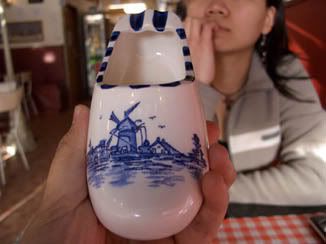 Dutch shoe...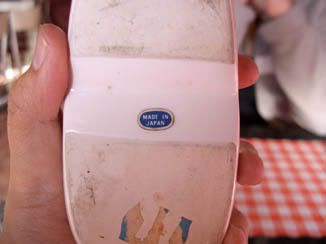 made in Japan.

Listening to:nothing
Saturday, January 3, 2009, 01:13 a.m.
|

two oh oh nine
Happy 2009 baby! Here's hoping that the lay-offs said to befall this year will be nothing but the new Y2K...
Ok, here's a sweet way to kickstart 2009. I've been hooked on Icing since October and I guess it's about time I showed the website some love by participating in one of its beloved features, Things I Love Thursday (TILT.) It's a meme where you list things you love every Thursday, and it's up to you whether you want to put up a badge (there's a slew of TILT graphic beauties somewhere on the website) or not. I've donated a badge too, and here's hoping that Miss Gala Darling will post it soon!
My room. It's the coziest office space in the world! I'm currently working on an online store (opening soon! Promise me you'll buy something!) and the stuff I'll sell are scattered on the floor but man what a pretty mess they are! LOL. Besides, my room's got a laptop, books, CDs...and most importantly the overall nuance is pink. They scream ISYANA ARSLAN'S ROOM!
Perfumes. Man I love perfumes. When I was a teenager I had a bevy of perfumes to suit my every mood, but starting 2005 it's one bottle at a time. At the moment it's Miss Dior Cherie (gives Gala a highfive.)
Current Disney artists. Miley. Selena. Jo Bros. Hahahaha. Yes there goes one of my darkest secrets. I like watching these teens prancing around preaching to their peers to follow their dreams. Sometimes I just sit there bewildered, not believing how cute, naive, and cheesy these kids seem to my 25-year-old eyes. Where have I been in the past 10 years?
The uncertainty this year brings. Sometimes I hate it sometimes I don't. But this is the long-anticipated break from six years of waiting for semester results in December and going back to school in January (Auckland Uni) or February (UI.)Listening to: Julie Andrews - My Favourite Things
Thursday, January 1, 2009, 03:23 p.m.
|