more on princess stephanie...
Angie this one is especially for you! The big-budgeted music video for Her Serene Highness Princess Stephanie Marie Elisabeth Grimaldi of Monaco's only hit (well it reportedly sold millions all over the world), Ouragan.

Don't you just love the French version way better? I don't know, but to my ear whatever sounds crap in English usually sounds better in other lingos, including French. Case in point is Alizee. I don't like her English songs, but dig most of the French ones.
Plus she obviously enjoys herself a lot more in this video than the English one.
I quite like the resepective concepts of the song and video. Stephanie's looking for the perfect man who, at the end of the video, turns out to be herself (or the male version of herself...whatever), all the while singing about falling desperately in love with a bad guy. By the time the single was released, the princess had garnered a reputation for dating guys your parents would rather die than see you dating. More than twenty years on she's still hooking up with bad guys, and known for her reckless lifestyle (in other words, still looking for herself.) Arts immitating real life? Or is it the other way around?
Oh and check out Stephanie as a boy. Can someone scream JOSH HARTNETT?
Sunday, August 31, 2008, 09:25 a.m.
|

mmm...
Princess Stephanie of Monaco was an absolute beauty as a 21-year-old! Check out this video from her short-lived singing career, Irresistable.

This is the English version of Ouragan (Hurricane), which is sung half in French and half in English. The video of which is spectacular, fit for a princess.
Perhaps I should officially christen this blog The Desparate Graduate Diaries. Hahahaha. Since its birth in April 2003 the blog never really has a name. When registering it for cliques or webrings in the somewhat distant past, I used to put down Angelic/Bitchy but now it sounds childish. Plus I had talks with my friends, recent graduates who've just landed jobs, and they said four weeks without regular work were nothing. Some of them were unemployed for six months, one even didn't have a job for seven! So yeah, if you're just released into the big wide world, trying to figure out your place in it while also trying to live on a meagre amount of money, join me! Hahahahaha. Join the crowd.Listening to: nothing
Thursday, August 28, 2008, 12:40 p.m.
|

yet another unemployed update...with a bit of zest
My bestie Hanum is getting hitched in January! Yay! We went lingerie-hunting today for the big first night. Yes, five months away but the excitement has already kicked in.
Naturlich.
The ceremony will take place on January 3 2009 in Jakarta, which means no Christchurch and Queenstown at the end of the year since I promised Hanum I'll make it to her wedding no matter what. And that is if I get a full-time job here. Or why not squeeze in Christchurch, Queenstown, and Jakarta together? Oh, and things would be so much easier if I go home for good in September. But that's the last thing I want.
Aaaaarrrghhh I hate this uncertainty. Like any human being trapped in the same situation I want to have things sussed as quickly as possible. This is driving me insane. I cry everyday, had a nasty headache for three days in a row, and just today got my period back after only a week.

Listening to: nothing
Tuesday, August 26, 2008, 01:56 a.m.
|

a night out at auckland city...
Hey hey people in merry Auckland!
I went to Tom's farewell play last night. Yes Kiwis it's Tom Sainsbury, one of the exciting talents in theatre, good friend and um...a little bit more. But we won't go to that. Anyhoo, it was super duper brilliant, as with any Sainsbury play. It was a one man show, and Tom played himself in a play based on imaginary life after his departure to London. In fact Tom's off to Queen Lizzie Land this Friday (if I'm not mistaken.)
But what really took my breath away was the presence of Madeleine Sami, of The Diary of Jacqui Brown, Shortland Street, and Sione's Wedding fame. The actress came strutting into Limelight Bar, where Tom's play was, in faded skinny jeans, a red cardigan, a pair of faded Cons (one of which had a black tape wrapped around the tip, possibly because of a gaping sole), long shiny hair, and clear skin. She was gorgeous! I reckon she's more gorgeous in real life than on screen. I was so starstruck the entire time before the play started I was trying to make up my mind about whether or not to say hi to her. And then when the play ended I decided not to, a decision I soon regretted.
Miss Sami if you're coming across this, hello! Hahahaha. I was at Tom's play last night and I sat just a few seats from you on the right!

Listening to: Collapsing Cities - Seriously (to Tim, Tom, Leo, Maya, and Patrick - an ode to the good ole AV library days!)
Monday, August 25, 2008, 10:57 p.m.
|

the unemployed update
I've applied to Ogilvy. Not for any particular position, just an entry level. Cross your fingers for me.
This is almost my fourth week unemployed. I'm hating it.
Ambassador training was good. I have no idea how many team members I have. On the list it says three, but not all the ambassadors were present in the training and the list was taken back by my boss to be updated. So there's a chance I'll have up to nine members. And of the three listed there was only one turning up, this cute Hongkie with a weird English name...He said he was named after a famous swimmer in the past!

Listening to: Sheila Majid - Shine
Sunday, August 24, 2008, 10:34 a.m.
|

ecstasy is when you know that some things are really beyond your reach...
One more rejection.
I was on The Link trapped in a traffic jam (which was nothing like any in Jakarta) in front of Auckland Hospital when I witnessed a most serene sight. A beautiful young woman wearing a headscarf and a long straight dress sitting at a bus stop. No, make that utterly beautiful. Beautiful in a pure sort of way, so pure that you'd think you saw a shining halo above her head. The sort of beauty that you hardly find in today's women. You know, the beauty that has a calming effect, not the disturbing effect that starts you feeling slightly jealous and thinking of getting her beautician's phone number. Hahahahaha.
Right then and there I decided to give in to that power above.
So what if God decides that I'll be better taken care of in the embrace of the motherland? It nurtured me as a kid, why can't it love me as an adult?
I'll keep trying to find a job in New Zealand until the due time, but I've really come to terms with whatever plan God has up His sleeve. If I nail a Kiwi job that's good. If I don't, well, tally ho Indo.
In the past year it's been easy for me to come to terms with things. Which is good. There's no feeling beating not having a care in the world. No no. Rephrase. There's no feeling beating the relief that everything is well taken care of.
On a different note, I had work as a student ambassador today and guess what Lily, my boss, made me a leader for Courses and Careers Day on the 30th! This is my first time leading and I'm excited and nervous. My friends who've been ambassador leaders complained about team members being difficult and as much as I'm always into challenges I'm scared. Here's hoping I can tackle the job well!

Listening to: Nothing
Thursday, August 21, 2008, 06:28 p.m.
|

taking it all in stride...
Hello lovelies.
Interview was smooth-sailing. And just now I received news that I didn't get the job. Truth be told, I don't really want the job and up until the news broke I had this 'if I get the job that's good if I don't that's ok' attitude but I'm actually crying as I'm typing. It seems like a bad omen. What's more, I haven't heard from Mollies and The Quadrant, the jobs from which I want the most.
Don't lose heart Ish-poo. Keep those applications coming. Indonesia, New Zealand, and elsewhere...
Speaking of Indo, I've made my parents a very good deal. If by the end of September I haven't got a job I'll pack my bags and kiss New Zealand sayonara...for good. Back to the motherland. And I hate the very thought of learning to love Jakarta's heat and traffic jams and superficiality again. I loathe the thought that my Aotearoa days are probably being numbered.
And also, out of astonishment, how come everything came so soon? First it was my work permit that came about three weeks sooner than expected. Then the news from the department of sociology about the failure of my application. They told me to wait until the end of the week.
Ah well. I believe in God's plans.

Listening to: Nothing
Wednesday, August 20, 2008, 04:14 p.m.
|

not a quick recap of the week...
Hey everyone! Of all the job applications I've sent out, thus far I've received one call for an interview and one rejection. The call for interview comes from my uni's department of sociology, faculty of arts, where I applied to be a departmental assistant. The interview will be conducted on Monday the 18th at 10:50 AM. So please everyone get down to your knees to whatever deity that grants you wishes and offer your life for my success. Hahahahaha.
The rejection comes from an unnamed five-star hotel who's represented by a recruitment company. They're looking for an assistant front office manager.
I missed out on the Beijing Olympics super grand opening ceremony and don't give a damn about sports in general, but I celebrate the Olympics my own way.
Bought on a whim a day after the ceremony, this is my second Joe Bennett book. Tells the story of Bennett's journey to trace a pack of underpants he buys at a Christchurch Warehouse down to its source in Shanghai.Listening to: Liu Huan & Sarah Brightman - You and Me
Saturday, August 16, 2008, 12:56 p.m.
|

i still have no life
Hello.
First off. MY WORK PERMIT IS HEEERREEE! Arrived by post on Friday the 8th. Way sooner than I expected. I only had to wait 11 days as opposed to a month. So yeah, graduation, checked. Work permit, checked. New job, coming soon...
Speaking of graduation, along with my permit there was the invoice of my graduation regalia, stating the grand total of $75. Hahahaha. To be paid by September 16 at the latest. Let's hope I'll have secured a job by then because I can't imagine spending yet another month on my olds' money.
So-called sixth sense at work again. Earlier today I was thinking about Injoo, my friend Miyuki's younger sister. I have no idea why she popped on my mind. But when I was on my way to Newmarket in the afternoon I saw her at a bus stop in Parnell. Hahahaha. And then Caleb. Yes dude is back from his European tour, on which he embarked on June 30 (I think.) He left a lot sooner than I thought and came back a lot sooner too. Anyway, upon hearing that he was already back in Kiwiland on Friday I had a picture in mind that soon we'd bump into each other at Imax, where he would be fetching a movie ticket. Which is exactly what happened tonight at around 6:45 PM. I was checking the timetable for The Dark Knight (yes I've finally caught on the bug) when all of a sudden he appeared, tanned and handsome (boy from Ipanema, anyone?) We flashed each other a smile. He cheerfully asked me what I was up to, to which I had an involuntary memontary silence (I was so stunned, damnit! Hahahaha) before answering, 'Nothing. You?' and he said, 'I gotta fetch a ticket.' Then he ran to one of the ticket counters. Hahahaha. Yeah. That's about the full extent of our encounter.
I'm sooo in love with this song, titled Nekade Posle Dva and performed by Macedonian singer Elvir Mekic. Now why do I have a strong feeling that some Indonesian song producer would rip this song off and pass it as his creation?

Listening to: nothing
Monday, August 11, 2008, 11:50 p.m.
|

hotels...
It's just downed on me that my life is complete this way. I don't need a guy to make my life complete. Well, a career would make it complete. A career is the only missing piece of the puzzle that is my life. Only a career.
Speaking of which, I've just applied to be a front office manager at Mollies! I'm actually kind of nervous about it since I've only got a three-month front office experience but they say experience isn't essential as training will be provided. And then one of the qualities they're looking for in a candidate is...the love of fashion and shopping! Love for fashion, sure, a front office manager has to look good since s/he is the director of first impressions but shopping! Why? Anyhoo, that's a plus for me since I like shopping. What girl doesn't like shopping...In fact I've jost got myself a cute pair of blue Keds Eleanor!
This is the one career prospect that I put my biggest hope on. I'm into boutique hotels as you know, I love staying at such hotels and it would be way more exciting to work at one! I've also applied to be Assistant Front Office Manager at The Quadrant. I also have high hopes for this one. This hotel's not the boutique kind, more like Quest but luxurious. I'm into small luxurious hotels too. Big chain hotels like Hilton and Sheraton don't interest me.
So again, wish me the very best of luck?
Off topic, lesson of the day: don't mix rice milk with chocolate powder. It tastes almost the same as regular milk and chocolate powder combination, but it smells kind of funny. And the smell killed my appetite.

Listening to: nothing
Thursday, August 7, 2008, 08:49 a.m.
|

lack of life...
Hello.
Alive and well. Thanks for asking.
Already hating my first week unemployed with coal-fuelled passion! Hahahahaha. For those uninitiated, my student visa expired on July 31 and so did my contract. My work permit isn't issued in another three weeks (provided that things are smooth-sailing), and until it's out I can't do any (legal) work. To add to the bad news, my (now ex?) manager told me on my last day that she wasn't sure they'd still be hiring in September, but she'd keep me posted. It was a major let-down, since when I told her I was officially a graduate and had applied for a work permit, she told me to let her know when it was ready.
So yeah, been applying for a myriad of jobs now, positions ranging from media sales officer to retail staff. I really should nail a new job by the time my permit is ready. Wish me luck?
Off topic, does anyone remember Tina Toon? Bolo-bolo? LOL. Born Agustina Hermanto in 1993, Tina Toon started her singing career in 1998 and later also ventured into acting. Her notable acts thus far, other than her debut single Bolo-bolo, are Lenong Bocah The Series (circa 2002) and performances as Inul Daratista's kiddy side act circa 2003/4. And then she kissed showbiz sayonara, only to emerge some years later as a stunning 15-year-old.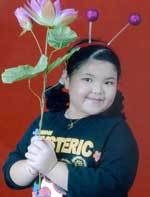 From this...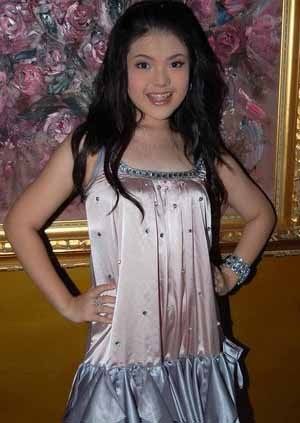 To this!

She really should change her stage name to something more sophisticated like her full name, or just Tina Hermanto. 'Tina Toon' is so unbefitiing for a blossoming teen girl like her!
Also off topic, happy 24th birthday to Regina! God bless you!Listening to: nothing
Tuesday, August 5, 2008, 08:05 a.m.
|


Educated at Universitas Indonesia and The University of Auckland, Isyana has a vast interest in the academic side of popular culture, which is exactly what her degree is all about. She takes pictures, sips latte, reads, and memorizes details like she's going to give Hercule Poirot a run for his money as pastimes. Born in Indonesia on May 14 1983, she is a Taurean, which means she would rather carry a Rip Curl bag than a very good fake Burberry one. Her employment in the past five years includes The Auckland War Memorial Museum, The New Zealand Fire Service, Trade Aid, and Auckland International. The rest is for you to find out.


Layout designed and coded (the very old-fashioned way) by me. The photograph (of Kiki Chen and Rachel Maggiolini) was, as usual, also taken by yours truly in another Photosoc outing in August 2007. The location is Auckland Domain's Winter Garden. Except the background image (courtesy of Squid Fingers), fonts (thanks to Dafont), counter, fanlisting and clique codes, everything else on the layout is my creation and therefore copyrighted to me. Best viewed on 1280.720 IE. Don't steal. This website has been online since April 2003.