Isyana Arslan is a proud alumna of Universitas Indonesia, from which she gained a diploma in English as A Second Language (ESL), and The University of Auckland, from which she obtained a Bachelor of Arts (BA) in English Literature and Films, Television, and Media Studies (FTVMS.) She also proudly calls Jakarta, Indonesia, and Auckland, New Zealand, home. Isyana is now working full time at Sunrise Solution, a Japanese BPR company, as a translator. She dreams of having a best-selling novel in stores, a successful online store, and settling back in Auckland in five years' time.

Layout designed by yours truly, as always. Photograph taken also by yours truly, of an unknown woman walking past a fancy gift store Iko Iko, which is situated at the legendary Karangahape Road (vintage store heaven, red light district, and more), in Auckland, New Zealand. Background image is courtesy of Squid Fingers and the fonts Dafont. Looks good on all browsers :)

April 2003 - July 2008
August 2008
September 2008
October 2008
November 2008
December 2008
January 2009


















another trip down the memory lane
I've no idea that my Kiwibox account is still active after all these years! I signed up for an e-mail account on the website in mid 2002 for the purpose of...stalking a girl who allegedly stole my boyfriend (yes, long time readers, it was Ricky.) LOL. I didn't use my true particulars of course. I got an assumed name, which I took after the daughter of my dad's childhood neighbour who's married to an Austrian man. I was attending UI at the time, but I listed my school as Atma Jaya University. So anyway, my alter ego and this chick - let's call her Amelia - got in touch, but overtime I was tired of trying to get the bitch to fess up. By early 2003, a new guy caught my eye...and I just stopped caring about Ricky and Amelia, whether or not they were still together, or whether they were still breathing at all...

Listening to: Emilie Simon - Fleur de Saison
Sunday, February 22, 2009, 11:44 p.m.
|

apparently breeding is the new black

Some say Alfie Patten is the real dad. Some say the whole situation is a hoax because both the Steadmans and the Pattens want to solicit money. And some supporters of the latter believe both working class families choose the right time to launch Patten-Steadman furor just as the world is still going ga-ga over the Suleman octuplets. Whatever it is, we all agree on one thing: Alfie Patten looks more 8 than 13. Well, at least Vili Fualaau looked like a proper 13-year-old when he first got his 33-year-old teacher Mary Kay Letourneau knocked up, as shown by the image below.
On the Patten-Steadman case, Tory leader David Cameron says, "I just thought how worrying that in Britain today children are having children." Yeah. My sentiments exactly.Listening to: Lily Allen - Alfie
Saturday, February 21, 2009, 06:43 p.m.
|

tapping into hollywood again...
I wonder if Brangelina would ever be interested in adopting one or five of the Nadya Suleman children. For those just came out of the cave, Nadya Suleman is the half Iraqi, half Lithuanian woman from California who's just spawned octuplets (six boys and two girls), while having six other kids at home (all under eight years old, three of whom are disabled.) But maybe not. Rumor has it that Angie Voight is creeped out by Nadya's apparent attempt to be the poor man's version of herself. Pillow lips, checked. Raven hair, checked. 1975 birth, checked. Many kids under the age of eight, checked. First marriage took place in 1996, checked. The only difference is that while Ms. Homewrecker outsourced most of her kids, Nadya gave birth to all of hers.
In other news, Mandy Moore has closed her fashion line, Mblem. While I feel rather sorry for Mandy because she's not the kind of celeb who flashes her vee-jay-jay on tabloids for all the world to see, I guess it's about time she closed her line because the clothes were bland. People are already guessing Lauren Conrad will be the next to close her line. I mean, come on, one look at her bag collection makes you wonder who in their right mind would throw away US0 for a bag which has a total lack of design intricacy like that? Also, a while ago LA's Kitson gave away her dress collection to Caitlin's Closet, a non-profit organization that donates prom dresses for under-previleged girls, because the dresses sold poorly.
By the way, this is my first entry at the office. LOL.

Listening to: nothing
Tuesday, February 17, 2009, 01:04 p.m.
|

omg mischa!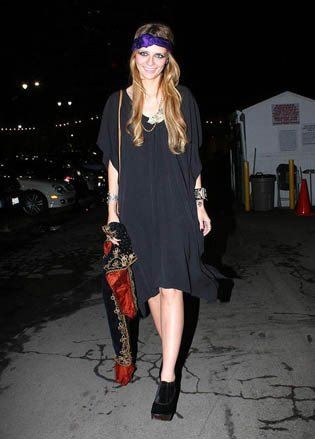 I think overall the style looks good. I still root for Mischa's style, still rock the huge boho bag/dress/ballet flats combo even though from what I observe on Vogue ballet flats are out and gladitor footwear is in. Likewise, I would don this above style any day...except the coats of mascara. Scary eh! Mischa probably has been cast as a typical gypsy psychic who mysteriously appears in the woods in front of a missing kid, granting him three wishes. Two wishes turn out to be disasters, as the kid meets his death by falling into the river as his last wish becomes reality, Mischa's gypsy queen shows up as a manacing apparition on the surface of the water.
Ok I admit I read too much RL Stein as a kid.Listening to: nothing
Monday, February 16, 2009, 06:37 a.m.
|

think you can fool me...think again
Hello you.
I know who you are.
A miserable man from a once very powerful first world country whose economy now is at stake, whose wife is the one wearing pants.
And you, my love, you're wearing skimpy lingerie - if anything at all.

Listening to: Kay Tse - Awful Men
Saturday, February 14, 2009, 03:21 p.m.
|

if all else fails I still have this blog
You swine.
You should know by now that I've discovered your tricks.
And happy belated birthday.
Don't forget your dentures.

Listening to: nothing
Wednesday, February 11, 2009, 12:07 a.m.
|