Isyana (Indo peeps call me Nana). 23. Taurean. Auckland, Aotearoa. Second year (starting July 2006) BA at UofA. Dip. Arts holder from UI. Good books (I don't read what you call chicklit and teenlit), photography, graphic design, travels, the internet. Living in my Giordano jeans and mostly pink-hued Polo tees. More?


Picture of Parson's, Choice Plaza, and ASB was taken by yours truly. As with the previous layouts, this one was coded and designed by me, best viewed on IE 5.0 or higher and 1024.768 resolution. Stealing is very strictly prohibited. Past layouts?


The Superficial
You Tube
Paperdoll Heaven
Wikipedia
Jane & Sarah
Sinema Indonesia*
Lapanpuluhan*
Am I Annoying
Adeline*
Ams
Fenina*
Angie
Emma*=In Indonesian

Pitas
Diaryland
Halo Scan
Tagboard Message Board
Sign My Guestbook
<
?
kiwi blogs
#
>
More?

Guestbook?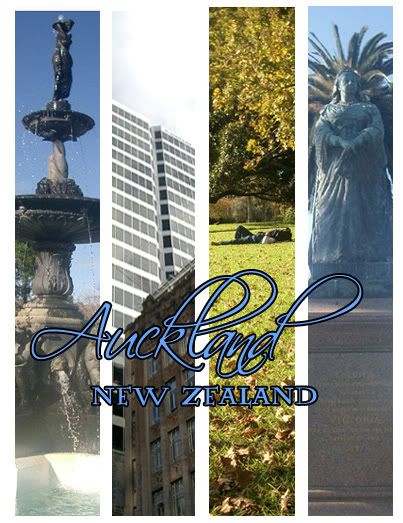 the nerdy entry
Bad news. C+ for my English 107 essay. There's no doubt I'll pass with a measly C- (that is if I pass at all...well I WILL pass. I have very good class participation!) unless I get anything above B- for the exam. Must study real hard.
I can't wait for tomorrow. Paul said my English 101 essay was 'excellent and impressive' and that the mark would be out tomorrow. Can hardly wait!
Can't wait for my FTVMS 205 essay mark either. Will it be out on Friday, the last day of the semester?
I'm glad to be doing only stage two papers next semester. I've decided on FTVMS 200 but haven't decided on my three stage two English papers. Happy, happy, happy...If I pass all my courses this semester and the next (amen) I can start doing stage three papers in summer school, January 2007.
On a note with totally no relation to school, I'm sad that my Korean best buddy (sort of) Ah Yong's leaving for home in about four weeks. She's one of ONLY THREE (shock horror) people in this pretty beatuful awesome Auckland that I REALLY interact with. There used to be five: Caleb, Irene, Hanum, Naim, and Ah Yong. Caleb, as you know we had a fallout. Naim, he quit his job at the dairy two weeks ago and we haven't been in touch ever since. Irene and Hanum, I'm still good mates with the Indo gals, one is a loner like me and the other a social butterfly. Ok back to Ah Yong. We talk a lot, sit near each other in lectures (we're in three papers together). Every tuesday it's either I walk her to her apartment or she waits with me for my bus. She even trusts me with the secret that is her Brazilian boyfriend. How sweet is that! I'm gonna lose it all soon...But no worries, we'll keep in touch and we might meet again in a graduate school somewhere in USA.
Oh and...I've EVENTUALLY got that Castle/Bu La Le Guan Chang MP3! Yay! And no, one one gave it to me, I downloaded it.

Listening to: nothing (aaaarrrrggghhh!)
Wednesday, May 31, 2006, 09:04 a.m.
|

whats on in indo
My thoughts are with you, the casualties of the Yogyakarta earthquake. Get well soon. God bless.
Ario and Wendy! Are you ok? Are you safe? Gimme a holla!
The Da Vinci Code (movie) is banned in Indo because the flick pisses off the Christians (and the Catholics as well?). It was banned after it had run in theatres for about a couple of weeks.
Indo. I fear for that beloved country of mine. Most Indos, most of the time, refuse ideas that are different (slightly or totally) from what they were taught as kids. This is not good, but we overseas Indos are gonna change that!

Listening to: nothing
Tuesday, May 30, 2006, 07:59 a.m.
|

random
You see, I'm sick of this layout already. I tried to whip out a new layout last night to no avail. I couldn't get the background image and the header to match, no matter how many times I changed both.
Turned out my Tom's won more playwright competitions than the two I've mentioned. How cool is that!
EDIT: Just got Complit 101 essay mark and for the first time since July (or was it August?) I got a B+! Yay! Me happy...

Listening to: nothing
Monday, May 29, 2006, 07:46 a.m.
|

the cool things my tom does...
I googled Tom using his first and last names and guess what I found! Facts that he's won Playmarket's Young Playwright Competition three times in a row (!) and a PANZ Playwriting Competition (how awesome is that!) and...his number. Hahaha but fear not I won't do the same mistake as the one I did to Casey. And Tom never brags about his achievements, just like Jonny (miss you so bro!) never bragged about winning a gold medal in last year's Youth Skills. Oh, how I love guys who don't brag...
Does anyone have Jolin Tsai's Castle/Bu La Le Guan Chang MP3? The song's from her 2003 album Magic, and apparently it's not available on the world wide web. If you have the MP3, send it to me, pretty please? Pretty, pretty please? I'll be forever indebtted. By the way, here's the video. Beautiful song.

Listening to: nothing
Sunday, May 28, 2006, 08:23 a.m.
|