Isyana (Nana to Indo peeps). 23. Taurean. Auckland, Aotearoa. Second year (starting July 2006) BA at UofA. Dip. Arts holder from UI. Naturally hot-tempered but she manages. Color-coordinated most of the time. Usually knows more than she lets on. Prefers writing to talking. Good books (she doesn't read what you call chicklit and teenlit), photography, graphic design, travels, the internet. Lives in her Giordano jeans and mostly pink-hued Polo tees. Went solo to her high school prom. More?


These random images of Auckland were taken by yours truly and each has appeared in full version on DA. As with the previous layouts, this one was coded and designed by me, best viewed on IE 5.0 or higher and 1024.768 resolution. Stealing is very strictly prohibited. Past layouts?


The Superficial
You Tube
Paperdoll Heaven
Liquid Generation
The N
Wikipedia
Sinema Indonesia*
Lapanpuluhan*
Am I Annoying
NZ Girl
Ams
Aiko
Wuri*
Fenina*
Angie
Emma
Vivian*=In Indonesian

Pitas
Diaryland
Halo Scan
Tagboard Message Board
Sign My Guestbook
<
?
kiwi blogs
#
>
More?

Guestbook?
Home?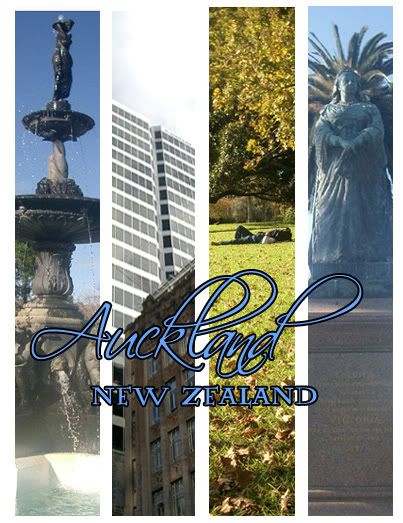 pictures...not yet.
Oh-kay...a few pictures from Courses and Careers Day and the ball are up on my Friendster. Check them out! LOL.
This is a picture from the committee performance at the ball. It was about how a genie (in the form of Captain Jack Sparrow hahahaha) granted a Malaysian student a wish of going through all the known fairytales to find a better life. Funny, as always. And it was cool too because the beginning and the end were on video (directed by prez David Liu) and the rest of it was live performance.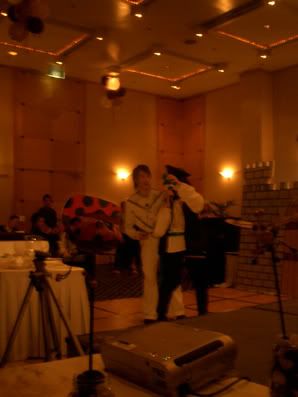 More pictures of the performance coming soon...Listening to: nothing
Tuesday, August 29, 2006, 10:48 a.m.
|

events...
Hahaha hey guys sup? Courses and Careers Day was tons of fun!!! I enjoyed walking people to wherever they wanted to go on campus, and when I had a peek at the survey sheets at the end of the day most visitors gave students ambassadors' (yes, that's us) performance 5 out 5 (1 being bad, 5 being excellent). Yaaaayyyy! Oh yea, I sure did take pictures. They're coming soon.
Before we started working I took this pic of one of uni's ads. This is the one put on display by our bookstore UBS.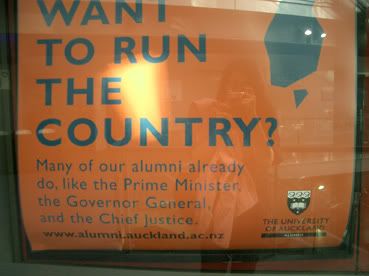 No, but I want to run mine. Yes indeed, Prime Minister Helen Clark, Chief Justice Sian Elias, and Governor General Anand Satyanand are just a few of our famous alumni. Isn't it so mad cool? After work I and four other ambassadors had bubble tea at this Asian cafe called Hulu Cat and look what I found there!

This is the cutest WC ever! The lid is kinda heavy though...I'm sooo getting WC seat and lid just as cute (or cuter) for my apartment.UMSA Ball is tonight! Expect more pictures peeps...Listening to: nada
Sunday, August 27, 2006, 09:36 a.m.
|

whats new
And she lives. That's right. I'm still alive. And ready to kick your tush, too.
Ok, first off: YAAAAAAAAYYYYYY!!! OMIGODDDDD!!! IT'S OVEEEERRRRR! So, in the past couple of weeks I've been slaving on four assignments and a test. My English 240 assignment was due last week. My English 213 test and FTVMS 200 response paper were on Wednesday the 23rd. And at I sit here typing I still can't believe I actually handed in my English 220 and 213 essays on time! I mean, just a few hours ago both were halfway through, and thanks to the extremely untimely error of my laptop I had to rush to school exactly five hours before both essays was due, praying there would be a vacant computer anywhere on campus (it was a slim chance, since today was the last duedate of all assignments). To my surprise, there was. And it didn't take a long time to find too...
So. What else is new in my life? I found Leo's pictures! Hahaha I found them on the same website that I found his movie clips. I just needed to surf further a bit. But I won't put them up here I guess. For reasons I can't tell you. But who knows, I might change my mind one day.
Oh and I still haven't been in touch with him as I hardly ever go to AV library nowadays.
Still missing him...Wonder how Prague's been treating our next Peter Jackson (hahahahaha).
Hokay folksies. That's all for now. I need to get dinner, and then go home and hit the sack for I have work tomorrow at 7 AM! Bah can't wait to see the paycheck already...
Oh, and!!!! HAPPY WEDDING DAY TO MY CUZ CHREZMA! AND WELCOME TO THE FAMILY TO IRENE! Also, HAPPY BELATED 24TH WEDDING ANNIVERSARY TO MUM AND DAD! Damn I'm sooo fucking jealous of my bro now...He's home for so many events (mum and dad's anniversary, Singapore, Chrez's wedding) and my homecoming last year was (sort of) uneventful.

Listening to: Tina Arena - Je M'apelle Bagdad
Friday, August 25, 2006, 05:08 p.m.
|