nyah nyah
Hokay. My dear old generous papa has asked a mate of his who also lives in Aucks to lend me one of his cellies and numbers until the new cellie arrives. And his mate agreed. Bless their hearts...So yeah, nevermind the old-ass Nokia, IF YOU WANNA KNOW MY NEW NUMBER JUST POKE ME VIA E-MAIL OR INSTANT MESSENGER OR WHATEVER!
Now people...I have my English 107 small test in 45 minutes so please please please get down on your knees and beg Allah or Jesus or Shiva or whoever you worship to let all the luck in the world fall on me! Merci in advance!
Oh and I'm really sick of Sugababes' Ugly video. Yea it's a nice song alright but imagine seeing the video everytime you turn on the telly!
Happy 23rd birthday Marisa! I would send you an instant birthday wish had I not lost my beloved Nokia 6630 but then again I didn't mind making the card for you!
Listening to: this verdomme song about being in love with a stripper...can't get it outta my head.
Tuesday, March 28, 2006, 06:06 p.m.
|
a series of unfortunate events
Ok. Another breaking news.

I. GOT. ROBBED. YESTERDAY.
Here's a quick recap of what happened. Yesterday at around 03.30 PM I was waiting for the bus at a bus stop at New North Road in St. Lukes (well actually it's not really in St. Lukes, but kind of in there...), when all of a sudden a fat Pacific Islander teen with ringlets appeared before my eyes and demanded I give him my bag. Of course I tried to keep what was so rightfully mine (a.k.a the bag, and in the process I GODDAMN BROKE MY LEFT RING FINGER) when he tried to grab it. So bad that it got me dragged and rolled on the road, in the rain. The bad ass teen got away with my bag, and once he got it he jumped on a car and drove away. I yelled for help of course, and fortunately a witness got to write down the thief's car plate number and a woman reported to the police for me and even drove me to my aunt's restaurant. By the way, I got my cellie, a novel vy Tim O'Brien called The Things They Carried (one of my English 101 textbooks), my beauty case, my keys, mineral water, and my tasbih. Wait a minute, you say. Something is missing. Where was your wallet?
MY WALLET IS STILL WITH ME. Yes, when I got back to the bus stop, soaked wet through and through and trembling and crying and yelling for help, I was OH SO RELIEVED to find my wallet was still there! I was actually holding my wallet and about to take out my bus card when the sick teen appeared, and funny how he didn't notice my open wallet in my hands...I really thank Whoever is above for this one.
So, people who know me...If you sent me a text or called me anytime above 03.30 PM (NZ time) and either got rude replies or no reply at all, you now know why. Oh yeah, I've got my number blocked. It's the first thing you do when your cellie's lost.
When I told my mum about the robbery (or theft? Still can't tell the difference...), guess what she told me? She told me my dad HAD BOUGHT ME A NEW CELLPHONE LONG BEFORE THE INCIDENT and that she would mail it tomorrow (which is today.) Heck, I'm one hell of a lucky gal. I hated my lost phone, Nokia 6630, actually. It's scratched here and there and the skin around the camera lens is chapped.
That by the way is unfortunate event NUMBER THREE that has happened to me only in a matter of two weeks. First I lost my MP3 player, secondly some pervert at UBS grabbed my bottom when I was there picking up the textbook I ordered (I've sent a complaint), and next the robbery/theft and the broken finger (which is in a brace now)...But my Korean sweetie Ah Yong told me this Korean saying about good things that would happen for all the bad things that happened to one. Aaaaawwww...Listening to: The Veronicas - Everything I'm Not
Monday, March 27, 2006, 05:03 p.m.
|
rumah baru...
A lot of things have happpened in a matter of 3,5 months, since the year started. One of my best guy mates and I nearly became a couple and now we share an on-and-off platonic love. I have moved to Epsom today, one day earlier than planned. That's just to mention two.
I'm loving my new house! It's so cool inside...you know, it's got the Puncak villa feel. And I especially like my new room, which I tidied myself with just a little help from Auntie Dina. I'll take pictures of 477a Epsom house when I'm not too lazy.
Listening to: Sugababes - Ugly
Saturday, March 25, 2006, 06:32 p.m.
|
lagi beteh
You know you're kissing another frog when he lies to you about the most trivial stuff. Things that don't need lying.
Yes honey I know. "We" don't exist. But I like to pretend "we" do because I believe certain lies do come true. Besides, it's one of the things that keep me uplifted during this stressful time.
Hey you. Yeah you. I know you've been reading my blog religiously...in secret. Don't ask me how I found out. Haven't I told you I usually know more than I let on? You can either comment on my entries or listen to me talk yumbabble on the phone. You only get to choose one.
Oh, and on another note, I've bought an Iriver T30, an MP3 player which is much better than the cheapo I got myself last week. Cost me $179, but it was certainly worth it. I've told you that, perhaps? I'm kinda forgetful nowadays.
Listening to: Boa - Heroine
Friday, March 24, 2006, 09:29 p.m.
|
necklace and a hk flick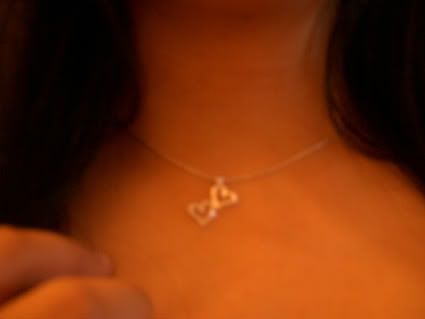 This pretty Perlini's Silver necklace was included in my mum's latest care package that arrived last Tuesday. The necklace represents exactly the situation of my baby and me...I don't know what was on her mind when she picked this necklace. I asked her to get me one with an initial pendant. Maybe she could feel my heartbeats at that moment? I've told her a little about him though, but very little...and she never takes my guys seriously. Anyway, back to the necklace. The heart pendant is just perfect. Two hearts, not intertwined but attached. My baby and I have feelings for each other. Sure the spark is there, but we're taking baby steps toward a real relationship...
We watched A Better Tomorrow in today's screening. Anna and I sat next to each other and we kinda gushed about the movie's images of 1980's Hong Kong. Anna's from Hong Kong and she hasn't been home in 10 years and I first went to Hong Kong in 1991 and it was one of my most memorable trips. I think the gushing session would've been more fun if Graham had been there. Yep, Graham...my FTVMS 100 tutor. Dude lived in HK until he was 8.Listening to: nothing
Thursday, March 23, 2006, 07:52 p.m.
|
thuolong...
AAARRRGGGHHHH! I'm juggling way too many tasks. I haven't packed for the moving, haven't started working on the first FTVMS 205 essay (will do tonight), and in the process of studying for the English 107 small test. The essay is due on Tuesday the 28th, the same day as the test, and we're moving on either Sunday or Monday! Gyah. Somebody lend a hand please. I've tried to talk my aunt into letting me move after things have calmed down, but she'd have none of it. Said she'd been in a living hell to long. Whatever.
My effing hot baby and I and our platonic love. Life can't be more beautiful.
Listening to: Angela Aki - Kiss Me Goodbye
Wednesday, March 22, 2006, 05:31 p.m.
|
mau nangis, tapi...
Now that everything's clear, you'd understand me if I cry. But thing is, I don't feel like crying. At least not tonight.
Even if you do watch me, and you know I'm pretending, you just won't do anything. Just sit there with mixed feelings. You just watch until you realize I no longer pretend. Until you realize I'm back to my carefree self.
Ok enough. Damn this picture really makes me miss home. It's a picture of my mate Stephanie (whose bro Frederick goes to the same school as my bro in Japan) and her mates at their almamater, Universitas Tarumanegara. The campus, which is next to Ciputra Mall and Hotel, is near my house. Oh fuck I miss home *shed tears*
I'm part Turkish and Egyptian, so of course MY ancestors used to beat YOUR ancestors and I'll continue the job *devilish grin* Can't give those lions before me a bad name.
Mum: Remember the white brocade and satin dress I had when I was a kid? The one I wore to Auntie Yanti's wedding in December 1991 and most of my piano concerts. The one you gave to Marsha without my consent when I was about 11. Would you mind doing me another favor? Get the gown back. I hope it's still with Mush. The girl is 15 now and there's no way she's gonna wear it. Heck, even as a kid she never even touched it, being a life-long tomboy. Please get it mum. If it's gone to some orphanage then forget about it, but if it's still with Marsha then please get it back. I love that dress to death. Most of the time when I think of myself as a kiddo, I see myself in the dress. I want to pass it to my daughter, and make an adult version of it (without the poofy sleeves, of course. And maybe without the waist corsage too.) Danke schoen, mutter!
Dresses. Gadgets. Diamonds. Bags. Books. Foods. I love them all. I love them more than I love people. These things love me for me. They make me glow. I never need to explain myself to them because certainly they never confront and mock me.
EDIT: Nyeh. I'm happy. Tralala. At least for now.
Oh, I'm on PMS...if you haven't already noticed.
Listening to: nothing
Monday, March 20, 2006, 12:28 a.m.
|
<
?
kiwi blogs
#
>