two homes none the better
I can't believe it. I've just missed the great Singapore Airlines sale. Hahahaha. Up to August 17 their coach ticket was down to NZ$1,300-ish including tax but now it's sky high again, prices starting at around NZ$1,800. So. No home-coming for me? Well we'll see...There's always Qantas (a wee bit cheaper but hey...) and I wanna see if I can finally land a real job by the end of the year.
But still man. I freaking need to go home. NZ weather has been treating my skin like shit and I'm feeling kinda...duh how do I explain this...suffocated. Kiwis seem more like aliens from Pluto than ever before and I felt like this around the same time last year. So it's an annual thing, this suffocation, the need to go home. Not that I really miss Indo. I actually dread the very thought of being head to head with those Jakartans. You know, meeting up with old mates where they will be showing off their rocks and/or bragging about their jobs, which would leave me feeling like a total outcast. Sky crapers side by side with slums. That kind of stuff. But I can't bear the thought of being in Auckland all year long either. It sure is pretty damn confusing to be me.

Listening to: The Clash - Should I Stay or Should I Go
Tuesday, August 28, 2007, 01:50 a.m.
|

stuff snuff
Apparently I have more old pictures than I can handle.

More stuff from 2003, the first half this time. That Tatu CD still has the Indo price label on hahahaha. It cost Rp.75,000 and I have no idea how much it is in NZ$...about $12 perhaps. Cheap hey? That novel, I actually watched the movie first (by the same title, starring Kidman, Moore, and Streep) then read the book. Both the book and movie are alright...And the wallet, it was brought by a distant uncle from Japan in 2001, but I didn't use it until early 2003 I think, when my black Elle wallet got defaced.
Looking back on my yesteryears, I guess the past six years seem to have gone in a dream...No, more like a trance. I was a different person, yet sometimes it hits me that it wasn't that long ago I was a girl who had really poor fashion sense and would sulk if she didn't get her way. And I certainly don't want my stick-thin figure back. My figure's fuller now and I reckon it comes with age as well as, uh, healthier diet (ok, NOT. I've just had easier access to Starbucks and foreign cuisines since moving to Aucks).Listening to: that horrid song about falling in love with a DJ.
Monday, August 27, 2007, 12:01 a.m.
|

ngayal ngayal...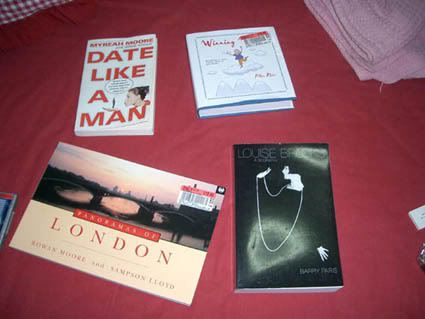 I founda a CD of pictures taken back in 2003, and one of them is this. The books I read at nearly the end of the year. Well I didn't really read two of them actually. One is a quote book and the other a pictorial. My dad got them out of the blue from Singapore. 'Date Like A Man', I swear, is the only self-help book I've ever read and it's highly recommended for those who want to have a bit more fun with the guys.
Louise Brooks, sweet lord, I love the woman...I wish I could pull off the flapper look. I once saw a necklace with a Louise Brooks head pendant. I want! Hahahaha fancy wearing the necklace with that 1920s style red dress from Max. Oh, and don't forget the 1920s signature shoes (the Mary Janes with heels...don't know its name - preferably NOT the sparkly ones from The #1 Shoe Warehouse) and the headband...one that you put across your head not on it. What a look to boot! Hahahaha. Oh, and I want my wedding dress to be like the one she wears in Pandora's Box, only I'd make the skirt longer.
Alright, gotta hit the sack. Have work at bloody 07.00 AM tomorrow.

Listening to: nothing
Friday, August 24, 2007, 10:29 p.m.
|

some people need to exit my life fast
The last thing I want to hear after I caught my boyfriend hand-in-hand with some ho in town is my so-called good friend bragging about how she can make any man weak in the knees.
And she said she was attempting to cheer me up.
Thanks man. That's the most hilarious joke I've ever heard. Ever considered a career as a stand-up comedienne?

Listening to: nothing
Monday, August 20, 2007, 01:48 a.m.
|

blargh pretty unimportant stuff
Alright. So I had no hit at all yesterday and only two today thus far. That's not good. The clicks actually earn me money. LOL.
Anyway, I'm sooo stumped with all these essays. One, for FTVMS 302 (Bollywood and Beyond) is 2000 words in length and the question goes as follows: as an example of the 1950s Hindi social film, how does Awaara represent the law to understand a newly postcolonial Indian society soon after the Independence?
Scream scream scream. I'm halfway through but the essay isn't looking good. It's probably the most disorganized essay you ever lie your eyes on. Can anyone lend me a hand? Anyone at all? I promise I'll love you forever, even if you're 70 and not even Viagra can help you restore your mansword prowess. And nah I won't ever ask you to get me Hermes, LV, Gucci, and whatnot. My mum's got it all and I love vintage stuff. Also I'll be able to afford them all one day...hopefully in the near future. In the mean time I'm pretty content with my surfer labels.
Right. Must dash to the AV library. Need to see Marilyn Monroe's Gentlemen Prefer Blondes for my FTVMS 202 essay. All these movies and all these essays...isn't it fuckin' awesome to be me? Hahahaha.
Oh and: for the first time in my life I saw an Amitabh Bachchan flick on Wednesday. It's one of his classics, Deewaar. Ok I admit I'm a major dork...but remember there's a bigger dork, the younger and less cool Arslan who ditched Hentailand for that hellhole that is home.

Listening to: nothing
Saturday, August 18, 2007, 12:37 p.m.
|
?lt;/td>


19. 20. 21. 22. 23. 24. Grew up in Indonesia, currently resides in Auckland, New Zealand. UI alumna, a third year at AU doing a BA in English Literature and Films, next stop is either Yale or NUS. Into photography, world music, graphic design, and whatnot.
Stalk me:
Friendster/Myspace/Bebo/DA/Shvoong
More?


The picture was taken by yours truly in Northhead, Devonport, on April 21 2007 using a Nikon D70 belonging to The University of Auckland's Photography Society. As usual, the layout was coded by me and other images except the ones for fanlistings, cliques, and quizzes were created by me as well using Adobe Photoshop 7.0. Don't steal.







More?