Isyana (Nana to Indo peeps). 23. Taurean. Auckland, Aotearoa. Second year (starting July 2006) BA at UofA. Dip. Arts holder from UI. Naturally hot-tempered but she manages. Color-coordinated most of the time. Usually knows more than she lets on. Prefers writing to talking. Good books (she doesn't read what you call chicklit and teenlit), photography, graphic design, travels, the internet. Lives in her Giordano jeans and mostly pink-hued Polo tees. Went solo to her high school prom. More?


These random images of Auckland were taken by yours truly and each has appeared in full version on DA. As with the previous layouts, this one was coded and designed by me, best viewed on IE 5.0 or higher and 1024.768 resolution. Stealing is very strictly prohibited. Past layouts?


The Superficial
You Tube
Paperdoll Heaven
Liquid Generation
Wikipedia
Jane & Sarah
Sinema Indonesia*
Lapanpuluhan*
Am I Annoying
Adeline*
Ams
Wuri*
Fenina*
Angie
Emma*=In Indonesian

Pitas
Diaryland
Halo Scan
Tagboard Message Board
Sign My Guestbook
<
?
kiwi blogs
#
>
More?

Guestbook?
Home?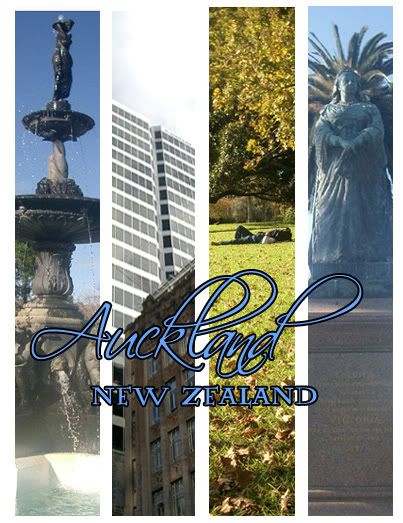 panjang ajah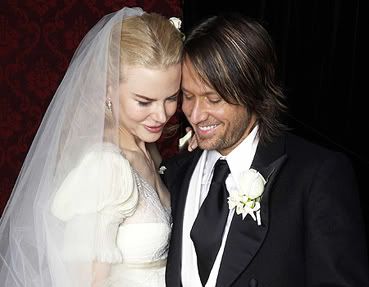 Congratulations Nic and Keith! Whee I'm sooo happy for them, for Nic in particular. She's one of my idols, and I can't help but give her (and new hubby) props for having chosen a traditional wedding. Aren't we just so tired of celebs having children out of wedlock and acting like traditional values no more exist? I sure am. Let's hope their marital bliss lasts long, although in celebville the chance for it is slim.
This picture is also from the Kidman-Urban wedding series...A young (and hot) photographer is herded away for trying to snap pictures of Nic when she was leaving home for the church.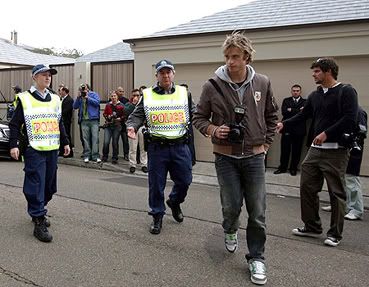 Man...I'd tap that.On an equally cheerful note, work yesterday was FUN! There were about twelve volunteers. Most of them prepared about 600 welcome packs for new international students and put them in boxes. My job was to make sure each box had as many packs as it could fit. Of course I did make new mates and take pictures. I had to put the pictures on my Friendster because people will have a better look at them if I put them in big sizes, and big-sized pictures will only ruin my layout.
Oh, and guess who one of the volunteers was? Casey! What is it with me and him lately? In only a week we've met FIVE times (yes, I did bump into him again on Sunday), and had this happened before I went to Indo last summer I could've died a happy girl. We didn't talk much so far of course, but yesterday at work we would look at each other by mistake, and he would smile first. Weird.
You. One of my dreams is for us to make up before we die. I miss us, I've no idea how many times I've told you that. I want you to hug me again. Intertwine your fingers with me again. Look at me that way again. Kiss my head again. Wave to me again. Poke my shoulders and nose again. You know, when I was 17 I was told that tapping a pillow three times while mentioning a lost beloved one's name before going to sleep would bring him/her back, or at least make that person think of you. When I had just broken up with Ricky when I was 18, everyday I tapped my pillow and mentioned his name three times before I dozed off and put his picture under the pillow in addition to praying. And guess what, the magic worked!!! We got back together. I do the same to you now. Yes, I'm talking to you. I know you're there.Listening to: Nelly Furtado - Promiscuous
Tuesday, June 27, 2006, 09:16 a.m.
|

happy happy joy joy yea yea
I'm heading to work in 1,5 hours! Can't wait :) There will be free lunch, and I'll meet a bunch of new people. It will be fun!
I'm all about looking for work lately, volunteer or paid. Just yesterday I came across an ad put online by The North Shore Times looking for an entry level journalist. I spent some time getting excited before finally e-mailing my visa scan, CV, and application. Hahaha...I mean, the job is soooo me! I got a reply almost right away, and turned out that they'd already got three candidates and they reckoned that was enough. Oh well. Better luck next time.
That was in the afternoon. Last night I stumbled upon the Auckland Museum website after having typed 'volunteer work, Auckland' on Google. I headed to website's volunteer page, downloded the application form and printed it but I haven't filled it out yet. There's a coloumn about previous volunteer work and I guess I'll fill the form out after I get home tonight.
I've also been considering volunteering for RMS. You know...helping refugees adapt to NZ life and stuff. Sounds like fun, but I've just found out I missed most of this month's trainings, won't be able to make most of the July ones, and I don't know I can make the ones in August until November since school starts on July 17 and the trainings are held every Wednesday.
Work talk aside, Tom's still in Wellington where his conference is having the last day and his play Butt Ugly was performed. I've read a couple of reviews for the play and they're kind of bad. Aaaawww poor darling...but of course I have to pretend I know nothing of this when I meet him again. I hate having to pretend I don't know anything when in fact I do know, although sometimes I find keeping secrets fun. Don't worry, I'm a good secret keeper.

Listening to: Olivia Lufkin - Where's My Love
Monday, June 26, 2006, 09:31 a.m.
|

this life is weaaaaarrrryyyy...
You know, sometimes I hate my instinct. It's always right it scares the shit out of me.
Life is harsh, but I have my own ways to make it tolerable. I create illusions. Beautiful illusions that at times I believe really happen. Once in a while though, the fact that they're mere illusions hits me with a loud, painful thud. It makes me cry, I'm not ashamed to admit, but I never cry for long. After that I move on, create even more beautiful illusions.
That's how self-destructive I am.
And it's got to do with my instinct.
My friends are either going home or getting hitched. God seems to forget I exist.

Listening to: The Grates - Feels Like Pain
Sunday, June 25, 2006, 12:12 a.m.
|

your regular blog entry
Ok. So I've met Casey three times this week alone, but the last time (last night), was the strangest. I met him at Whitcoulls, where he turned out to be working, but the name on his nametag wasn't his. It was Patrick. Plus, the trousers he had on seemed to be a bit too small you could sort of see his, er, balls. I kid you not! When I asked him why the nametag didn't bear his name he said his nametag was lost somewhere in his house, but you know what I felt something really fishy going on...And mind you, I really am over him.
I'm glad exams are over, although I totally screwed the last one. This semester is so ov-ah! For the next semester I'm enrolled in four stage two papers, one FTVMS and three English. No more annoying high schoolers!
EDIT: I hope one day I'll find someone who approaches me not because he doesn't stand a chance with high maintenance chicks, showers me with presents like I shower my beloved ones with presents, is there during my Miss Crankypants days, and lets me have a hissy fit or two. And don't worry, I'll buy my own gadgets.
You. Act like you're God's gift to humankind one more time and I'll have you skinned alive. I'm serious.
And you too. You can brag all you want but you really have fallen from grace.
I wish I could take pictures for a living. Or blog for a living. Read books, watch movies, and eat for a living. Dress people or dolls of any kind for a living. Or better, travel for a living. But of course, there's no such thing. I'm hardly any different from you.

Listening to: uh, nothing.
Saturday, June 24, 2006, 04:54 p.m.
|