worry
I walked past Pete's flat on my way to Food Alley to have dinner last night. The artificial rose at his window was gone. He once told me that if the rose was gone, that would mean he was gone from the flat. Maybe he's moved out? When we were still going out he was already in trouble with the flat's manager about the payment, and she threatened to throw him out. And for the first time it got me thinking, I didn't officially dump him. I just said his marriage and kids talks scared me, and since he has my number why hasn't he called me? If he loved me so much like he claimed, he should've called me and apologized, right? But what the hell. I guess I was just worried I might've ruined his life, but I think he'll do just fine. If he could survive a cheating girlfriend who sort of denies him access to his own son, then he can survive one of less than a week who loves her freedom more than anything else on earth.
This is what I got from Liquid Generation's latest "stupid movie quiz" or the first ever with result images...Nifty aye!


Oh yeah, my FTVMS 101 peers and I discuss Jean-Luc Goddard movies, especially Breathless. French New Wave sucks!Listening to: Nickel Creek - Spit on A Stranger
Sunday, October 23, 2005, 01:20 a.m.
|

poetry reading photos galore
Well. Hokay. Poetry-reading was fun. Casey was there, Flavius and Lina were not. But there was Jess...so she's not a myth after all. And she's not the Jess that I know. I'm still not sure they're dating because Casey introduced her to me as just Jess and referred to her as his "friend he hadn't seen in a long time and needed to catch up with." Well...believe it or not I wasn't jealous at all of the pair. Casey wasn't smartly dressed (again) and I wouldn't wanna be seen with a messy guy. So there. Oh and I took a few pictures of the event too.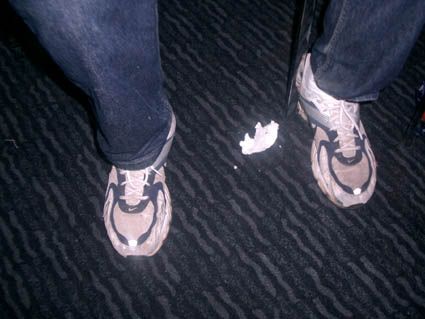 Casey's feet. I needed to make sure he wasn't wearing the shoes with a gaping sole again.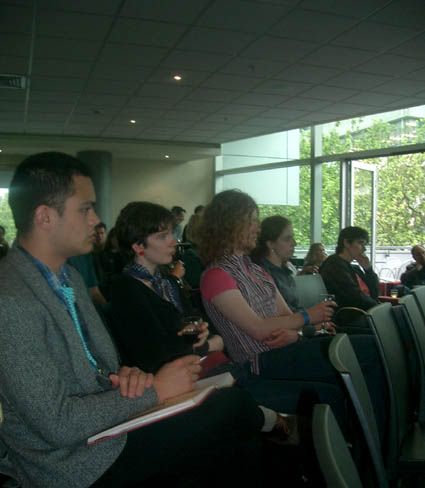 Several of the attendants. The person in the vest and tight pink tee is a guy (just in case you haven't noticed the beard). Well a poetry-reading is an event where you can expect to see downright eccentric people (indeed it's one of the things that make poetry-readings fun). There was also a man with long red hair, moustache, and beard wearing a matching suit complete with a tie and...a high hat. He really looked like someone straight out of a movie with a 19th century setting. I should've taken a picture of him.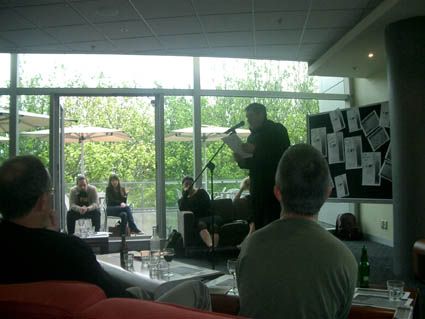 Some famous writer (but I can't recall his name) reciting his poem...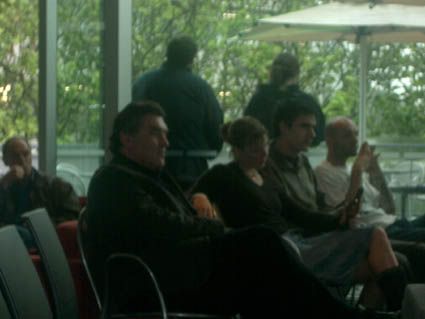 That's Peter Simpson, my English 103 (NZ literature) convener who's also a well-known book editor.Evold, no...I don't do free layouts for people as I'm a design novice, but you can get quality free layouts either here or here. Good luck! Listening to: The Corrs - Haste to The Wedding
Saturday, October 22, 2005, 11:14 p.m.
|


If the the header image isn't self-explanatory enough, this blog is mine and therefore I'm entitled to do anything I please with it. If you don't like me as a person or don't like what you see, then why on earth are you here, of all places? If you can't say anything nice, go get yourself an online space to rant in. Don't do it in other people's. Maturity is key, folks.


Twenty-two. Taurus. Indonesian passport, New Zealand residence. The UI grad, UofA freshman. English literature major, films and media studies minor. Budding psychic (?). In the midst of quarter life crisis. Spoilled brat, but not rich nor rotten. Always color-cordinated. Mother tongue is Bahasa Indonesia. Travels include Japan, France, Singapore, England, Australia, Malaysia, China, and USA. Usually knows more than she lets on. Single. Blogging since 18. Graphic design, poetry, and photography are pastimes. Quirky. DA. LJ. More?








The rest?












Link me?

Light background

Dark background


Designed by yours truly with Adobe Photoshop 7.0 and manual HTML. Best viewed on IE 5.0 or higher, with 1024.768 resolution. The off-site links here open in new windows, so switch off your pop-up blocker. If some images won't appear press the refresh button or right click and choose "show picture". Brushes aren't mine, so if you think it's yours, don't hesitate to notify me. All rights reserved, unless started otherwise. Past layouts?

guestbook
home