Isyana (Nana to Indo peeps). 23. Taurean. Auckland, Aotearoa. Second year (starting July 2006) BA at UofA. Dip. Arts holder from UI. Naturally hot-tempered but she manages. Color-coordinated most of the time. Usually knows more than she lets on. Prefers writing to talking. Good books (she doesn't read what you call chicklit and teenlit), photography, graphic design, travels, the internet. Lives in her Giordano jeans and mostly pink-hued Polo tees. Went solo to her high school prom. More?


These random images of Auckland were taken by yours truly and each has appeared in full version on DA. As with the previous layouts, this one was coded and designed by me, best viewed on IE 5.0 or higher and 1024.768 resolution. Stealing is very strictly prohibited. Past layouts?


The Superficial
You Tube
Paperdoll Heaven
Liquid Generation
Wikipedia
Jane & Sarah
Sinema Indonesia*
Lapanpuluhan*
Am I Annoying
Adeline*
Ams
Wuri*
Fenina*
Angie
Emma*=In Indonesian

Pitas
Diaryland
Halo Scan
Tagboard Message Board
Sign My Guestbook
<
?
kiwi blogs
#
>
More?

Guestbook?
Home?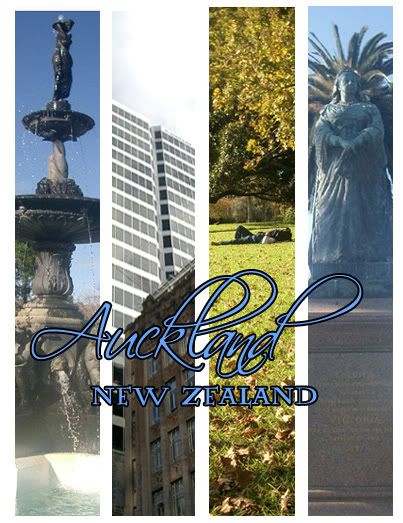 strange dream
I had a really strange dream last night. In my dream I was transported to my childhood or pre-teens, and there was this guy who was with me throughout this part of the dream, and he said he'd be back when I was older. Fast forward to the present-day me, I met the guy again...only this time he became my aunt's husband. And at the end of the dream I almost lost a tooth. Oh, and the guy introduced himself as Andy.
What the heck does the dream try to tell me? Surely my aunt's husband's name is not Andy, and I do have a distant uncle called Andy. He's kinda young but married with two boys. And I woke up missing my childhood like mad for no reason. I still do as I'm typing this. I miss practicing my prayers at school, I miss my grandma telling me about her childhood during the war, I miss reading my mum women's magazines and thinking adults' world was glamorous and so far away. But hey, I must face life.
I didn't know that Ronan Keating released his covers of Leann Womack's I Hope You Dance and Goo Goo Doll's Iris. Geez. When will this guy stop releasing covers? He'd released God knows how many covers with Boyzone and now on his own he's whipping out some more. Maybe it's high time we told Ronan we liked his original works better.
EDIT: Haven't I told you this before? Tom's currently in Wellington for a conference until probably the 27th. Nope, he didn't tell me. I found it out on Google. Yes, I google people. I'm that creepy.

Listening to: Ronan Keating - Bring You Home
Wednesday, June 21, 2006, 10:07 a.m.
|

family and friends entry
I made a new mate! Her name's Cindy Wan, she's 27, from China, and she works at the upper (?) Queen Street branch of Starbucks. Oh, and she's about to graduate from AUT as well (she's doing hospitality and it's gonna be her second bachelor's degree). She's really cool (so far) and we can talk about anything together. We've hung out once (she was off duty) and I'm looking forward to seeing movies together, having coffee together...
You know, ever since I moved to Auckland I count every mate I make as a blessing, and I count those who are more than just 'hi, how are you, bye' ones as a bit more than that. Back in Indonesia, everyone is friends and through most of my K-12 and college years I got along with everyone so I kinda took my mates back home for granted. But now not anymore.
I had a chat with my bro a couple of days ago and I was SHOCKED upon learning that dude was doing a philosophy paper. That's right. PHI-LO-SO-PHY. Yea yea I know it should be no biggie but you don't know my brother. This bloke used to balk at anything that requires really deep thoughts. Apparently Sushiland's brought out the depths in him or whatever. Oh, and speaking of sushi, the dork also proudly told me that now he could make sushi and other difficult-to-make foods, all thanks to a culinary school student from Vietnam who shares an apartment with him. Woohoo there's a new cook in the family...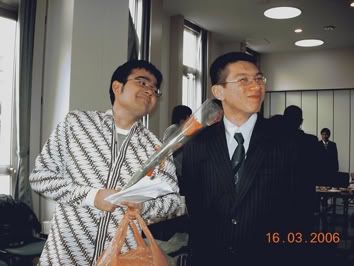 That's my bro (in Batik) at his graduation from language school. I don't know who the other guy is...maybe his sensei. Can you believe he's turning 21 this year? I can't.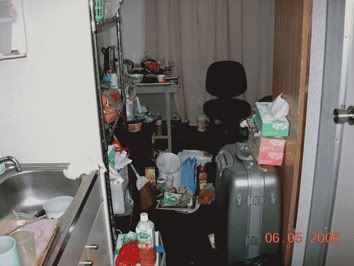 And that's his new apartment. What a bombsite!Listening to: Sophia - Satu-satunya
Tuesday, June 20, 2006, 08:48 a.m.
|

wishlist
What I want...


This. To hell with Ipod. They can't play WMA files and for me an MP3 player should be able to play them because most of my songs are really old ones that are unavailable for download. I'm having mum sending my (used to be my dad's actually) 1989 British Music Award double CD and that Toto CD that has 'I Will Remember'...BTW, my current Iriver is having a bit of a problem (I hope it's just the earphones though), that's why I'm thinking of getting a new one.


Go here! How exciting...I guess I've become addicted to roller coasters since my last rides with Naim at Rainbow's End. I stayed for five roller coaster rides but when I was about to have the sixth Naim suspected I had a headache and about to vomit so he forced me out. I did have the headache, but I didn't vomit.


An Allah bling. LOL. My mum bought me a (real, mind you) diamond Allah necklace a loooong time ago, I think when I was a teen. I'm having that necklace sent over as well. It would be fun to wear my faith in a classy way! Wear it on my neck first, and then maybe in the (hopefully near) future on my head.
Listening to: nothing
Monday, June 19, 2006, 01:02 a.m.
|