Isyana (Nana to Indo peeps). 23. Taurean. Auckland, Aotearoa. Second year (starting July 2006) BA at UofA. Dip. Arts holder from UI. Naturally hot-tempered but she manages. Color-coordinated most of the time. Usually knows more than she lets on. Prefers writing to talking. Good books (she doesn't read what you call chicklit and teenlit), photography, graphic design, travels, the internet. Lives in her Giordano jeans and mostly pink-hued Polo tees. Went solo to her high school prom. More?


These random images of Auckland were taken by yours truly and each has appeared in full version on DA. As with the previous layouts, this one was coded and designed by me, best viewed on IE 5.0 or higher and 1024.768 resolution. Stealing is very strictly prohibited. Past layouts?


The Superficial
You Tube
Paperdoll Heaven
Liquid Generation
Wikipedia
Jane & Sarah
Sinema Indonesia*
Lapanpuluhan*
Am I Annoying
Adeline*
Ams
Wuri*
Fenina*
Angie
Emma*=In Indonesian

Pitas
Diaryland
Halo Scan
Tagboard Message Board
Sign My Guestbook
<
?
kiwi blogs
#
>
More?

Guestbook?
Home?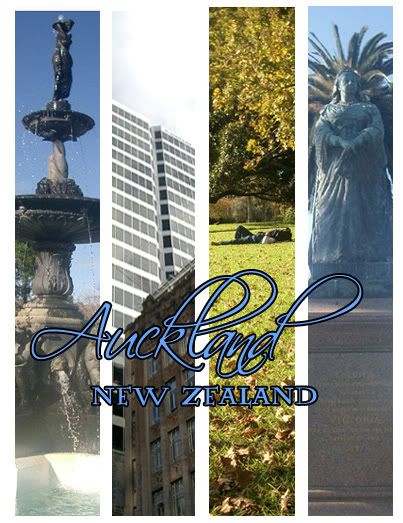 bad day...not really.
Today wasn't really great. First I was so in a hurry to school I put on the clothes I'm having on right now (not a pretty sight. Luckily I haven't thrown my only pair of skinny jeans into the laundry bin). I made it to school on time alright, but the exam...I did it ok, I guess. Time was up when I was writing the second essay's conclusion.
I watched the Edward Said on Orientalism video today after lunch for my Comparative Literature exam on June 22. I think I'm gonna do a text from the Middle East. I guess I have a budding interest in Orientalism. Might do it for my master's.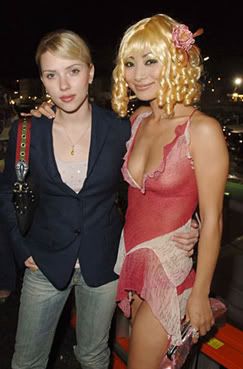 Scartlett Johansson clearly is none too happy to get her picture taken with Bai Ling. Because, well, Scarlett must think the Mainland China attention whore's got nothing on her and like it or not we must agree with her. But I personally don't like Miss Johansson. She often wears dresses that are, like, five sizes too small just to accentuate her juggernauts.Listening to: nuffink
Saturday, June 17, 2006, 07:05 p.m.
|

on being cheerful...
Ok, good news. First I did my English 101 exam yesterday well. Finished all four essays in the alloted three hours. Second I've got myself (volunteer) work, starting June 26. I'll be helping new students adapt to uni life as a Uniguide and Ispace Mate. So freshmen, say hello to me! Hahahah...Who says not being able to escape mad cold boring A-town sucks big time?
Anyway, I'm having my English 107 exam tomorrow at bloody 09.15 a.m. Believe me there's nothing worse than having an exam on a Saturday, first thing in the morning.
Alright you humdrum people on God's green earth, I need to get back to studying.

Listening to: The Corrs - Toss The Feathers
Friday, June 16, 2006, 08:13 p.m.
|

menang cantik doank
You. You're all tits and ass and nothing else. People might get hot and bothered by you but once they realize what a great bore you are they'll regret being acquainted with you.
You were so ridiculous as a teen, and now in your twenties you're just as ridiculous, if not more. And yes, you're just like most of my mates. Just as ordinary.

Listening to: Black Eyes Peas - Pump It
Thursday, June 15, 2006, 11:40 p.m.
|

slides of tom before my eyes
You know what made my day today? Well good thing if you guessed Tom. He was a bit weird today...in a good way. When I was in the library watching the 1986 Tom Stoppard interview for tomorrow's English 101 exam, all of a sudden Tom ran in my direction and put one hand on my shoulder. I was shocked of course, and he, with his hand still on my shoulder and eyes deeply penetrating mine, said, 'Don't worry, I was just dancing. Keep watching, ok?' Hahahaha...
Fast forward to approximately three hours later, after having finsihed the Waiting of Godot DVD (also an exam material, two freakin' hours of boredom...) I told Tom I'd like to see him dancing again and he replied, 'You looked scared. You always look scared.' And I said, 'No, I wasn't scared!' Oh, before that we held each other's gaze for a few seconds, but I looked away first.
And he also looks better in appearance these past few days. Before that it seemed like he always put on whatever clothes lying on the floor.
I talked to one of my best guy mates Rav about it and he said they were all a good sign.

Listening to: Natalie Imbruglia - Counting Down The Days
Wednesday, June 14, 2006, 11:18 p.m.
|

si maniak kawin dan si sok suci
Rhoma Irama and Fadholy El Muhir: go fuck yourselves, men. Seriously. For the sake of not only Indonesia, but also the entire humankind. Plus, we don't need anymore lunatic desperate for attention. Yes, anyone who can't tell Indonesia from Arabia is VERY HIGHLY RECOMMENDED to get his/her head checked.

Listening to: nothing
Tuesday, June 13, 2006, 01:34 a.m.
|

future talk, sort of
You know, now I'm ashamed for having believed whatever it was I believed before turning 23. And golly, I really am two years short of a quarter century! Scawee...
Omigod I so will hire Viewpoint Kreasindo to do my pre-wedding and baby blessing pictures! And what's awesome is their office is so near my house in Indo! Take a look at their portfolio, and so far this is my fave. Too gorgeous for words!
Yes I do wanna get hitched...before I'm 25 if possible. The best scenario would be me exchanging I do's with whatever man God picks out for me soon after graduating from uni. I plan on finishing my studies by autumn 2008, and if possible I'll have my graduation in April of the year and then have my wedding in early May.

Listening to: nothing
Monday, June 12, 2006, 11:56 p.m.
|

i know this is so fucken pathetic but...

+64 21 074 3201
Seduce me. Cheer me up. Terrorize me. Whatever. Listening to: the funny noises my neighbours are making. Ok just kidding.
Sunday, June 11, 2006, 12:06 a.m.
|