dadada...
When I was much younger, I was an adult trapped in a body of a kid. Now as an adult, I'm the other way around.
It feels so good to hold baby Hapsha in my arms. It's so warm, tender, and that's when I realize I've grown motherly feelings...Oh, and by the way you know you're old when you start calling any little kid "son" or "kiddo."
I had no idea that NZ prime minister Helen Clark and her deputy Winston Peters are University of Auckland grads! In my country many famous economics experts, politicians, and even celebrities are graduates of The University of Indonesia, my other almamater. Even our ministers of finance from the first Soekarno cabinet down to the last one in President Yudhoyono's are ALL UI GRADS! As for my high school, SMU 82, well...the grads are mostly celebs, but that doesn't make me less proud. As if this is not mentioned often enough, our newest Indonesian Idol, Michael Mohede, is from my graduating class of the school. Model and actress Anandyta is also from my graduating class, and we were classmates in grade 11. Amara from then band Lingua (class of '94), Ersamayori Yatim (class of '97), Adinia Wirasti and Ingka Noverita (class of '04)...If you're Indonesian you know who they are.Listening to: Toni Braxton - Unbreak My Heart
Tuesday, September 13, 2005, 08:08 a.m.
|

but we are all only human...
Seriously, if you can't say anything nice, don't say anything WHATSOEVER. Look, I don't care how popular you are with the Indonesians here, I don't care if you pay for a much cheaper tuition fee because you're a permanent resident, I don't care if your parents are power people back in Indo, I don't care if you're a man magnet, I don't care if you get A's for your papers, I don't care if you make a lot of money and blow it like it really grows on trees. I. DO. NOT. CARE. AT. ALL. I'm sorry you have to brag about them because you see me as a threat, though. Do I make myself clear? Exit my life. Fast.
Hah. People, people, people. As I've met angels disguised as humans throughout my 22 years, I've also encountered those who really made me think what God was thinking while blowing lives into them as fetuses. I'm fully aware that I'll meet more of these people in the future, but guess what, those human-skinned demons can't kill me.
BTW, if you've been my ardent reader for more than a couple years, you must remember my super hot Eurasian crush Jason (I'm sure you do! LOL.) Well guess what, dude is back on the single market! He broke up with his girlfriend of two years probably shortly after I arrived in New Zealand. And he said he wanted to be single for a while, concentrating fully on a modelling career that he's currently building in Asia. Talk about good news!
EDIT: Look what I found on Google tonight! Omigod omigod I'm so proud of my little neighbour Johnny! He was one of the gold medal winners at the 2004 National Skill EX, category of mechantronics. He was also sent to compete in the world-scale competition in Helsinki, Finland, along with Indonesian Andy Hartanto from the cookery category *proudly hoists flag hehe* back in May. And he's never told me about it! See how down to earth he is...Oh, and his real name is Jonathan Currie and here is a pic of him with his team (he's second from right.) I gave Orchid the link to the photo and we went gaga over "our cute little J." Hahahahaah :)
Met Barton and Kim at The Student Commons just before English 121 lecture and they thought I got a tan! I let them. LOL.
Back to Johnny, I haven't seen him in the past two weeks and so this morning I slept on the bus in loneliness. I really love talking to him during the wait for our bus and the journey to our schools. It's not that I have a crush on him - he's only 18 AND taken - but I just love his company. At first I worried about him. What if something bad happened? But it wasn't until I arrived at school about half an hour before the lecture that I realized I was too early. With Johnny, I always arrived at school 10 to 5 minutes before the class. Oh, and we still haven't got each other's numbers!
Went to the Napianto home this afternoon, and the little ones were having a bath when I arrived! Unlike their counterparts in Indonesia, these kids looove bathing their mum says baby Hapsha always cries whenever she's lifted off her mini bathtub. While having the bath 3-year-old Haikal constantly asked me to snap pictures of him and his sister, so I took several pictures, but this one I deem the best. Adorable aye!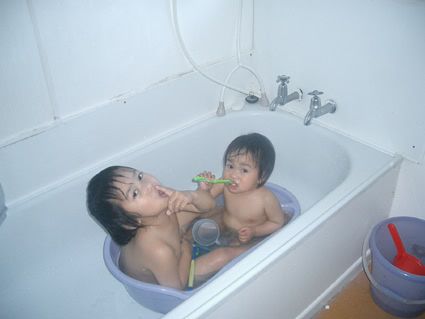 Splish splash!Listening to: Denny Malik - Putri Impian
Monday, September 12, 2005, 12:59 a.m.
|

sabtu seru
Alright, where do I begin...Saturday was fun. It begun with Roji ringing me in the morning, suggesting I go to Borders that night because according to him Casey was usually there to chill on weekends at 7 or 8 PM. Thrilled, I got to Borders even earlier than 7 PM, and after two hours of a drink at Gloria Jean's (which is located inside the bookstore), mags, and walking around like an idiot, there was no sign of Mr. Caldwell. Fortunately though, Ellis and co. accidentally came to my rescue, and they even introduced me to some cool Indo/Dutch guy called Waldo, who asked me for my number! LOL. So yea, after Ellis and her girls was off to see Charlie and The Chocolate Factory at Metro Sky City and Waldo went to hang out with his other buds at Gloria Jean's, I left Borders and headed to Food Alley to have dinner. I didn't care if Casey did show up after that.
Once at Food Alley, I lost my apetite because the food counters there were closing. Therefore I left the building, not knowing where to go. It was then that I met a bunch of nutty Cambodian (or Vietnamese?) women and girls wearing angel halo headbands and one of them stood out for wearing a mock bridal veil, a "bride-to-be" sash, and a mini apron. They hollered at strangers, particularly male ones. At first I thought they were drunk, but it didn't take me long to realize they were having a bachelorette party! LOL. Well it was funny, but I certainly wouldn't like my girls to parade me around wearing silly outfits in such busy places as downtown at my bachelorette party!! Hahaha...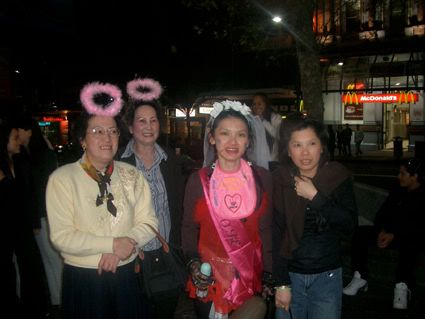 Yep, those are the bride-to-be and her acquaintances. I wonder if they had a male stripper performing....I had to shout to ask them to pose for me and after I took this picture, they marched on to find a couple of white guys and made the future bride kiss one of them! LOL. I tried to take a picture of the kiss, but people kept getting in the way...Oh, as for the dinner, I had a late one at Nando's, which has become my new fave, because it's open until 3 AM on weekends.
Saturday aside, I have school starting tomorrow. Can't wait! And now I'm pissed because instead of applying night cream I applied moisturizer, and I didn't realize that until the moment I put the moisturizer cap back on!Listening to: Elvis Presley - Jailhouse Rock
Sunday, September 11, 2005, 09:53 p.m.
|