apa bedanya bila ku mencinta...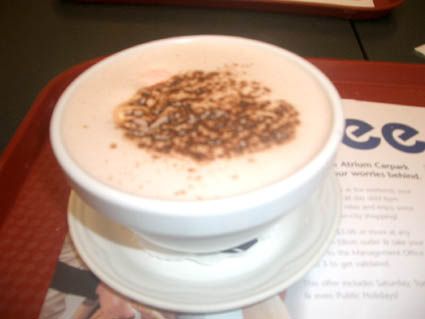 This is Hollywood Bakery's hot chocolate...soup. They actually put their hot chocolate (and all their other drinks most likely) in bowls!!! And it's not the large size either...It's the only size available. The pic was taken when I was breaking my fast at Atrium on Eliott with Irene (again).You are the window to my childhood bliss. I think of you, then all the happy memories come flooding in. I don't know if you're meant to do this, but I hope you are.
I loved it when James sweet-talked me, even though he must've been at that time (he denied). Before that I didn't remember the last time a guy sweet-talked me. Yes, I'm that lovelorn.
Please sign my guestbook. Yes, it exists. The tagboard is NOT the only place to leave me shout-outs. Please sign my guestbook.
You know what I'm missing at the moment? Sitting in the car on my way home from The UI's Depok campus on a rainy evening, listening to Bond's Shine album. I did it almost daily two years ago.Listening to: Helena - Sekali Cinta Tetap Cinta
Monday, October 10, 2005, 05:12 p.m.
|

photoblog
I haven't got much to say. Hence the pictures

The artsiest public loo I've ever encountered. Somewhere near Dress Smart.

The Loo's creator plate.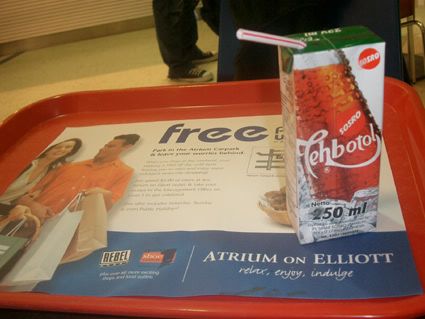 One of the things that keep me going in Auckland. Taken when I was breaking my fast.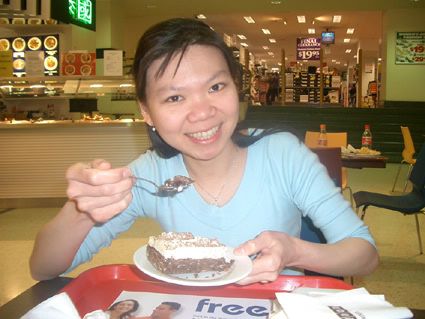 This is Irene, the cool girl who's been taking me under her wings since school started. She's enjoying Hollywood Bakery's cappucino brownie that I recommended. I'm glad she likes it too!Be benevolent. Lend your hand to friends, even strangers. You never know when you'll get your reward, but you'll get it for sure. That's what I learnt yesterday.
Design newbies: NEVER EVER keep your big graphics in gif. They'll take ages to upload and download.
Jean, omigod! I have that pink Bossini (or is it Giordano?) pink tee you wear in your Malacca trip photo! Hahahaa :) Unfortunately I left it at home in Jakarta...but I'll ask my mum to send it here along with other stuff next month. Another coincidence aye! Listening to: Secret Garden - Steps
Sunday, October 9, 2005, 10:00 a.m.
|


If the the header image isn't self-explanatory enough, this blog is mine and therefore I'm entitled to do anything I please with it. If you don't like me as a person or don't like what you see, then why on earth are you here, of all places? If you can't say anything nice, go get yourself an online space to rant in. Don't do it in other people's. Maturity is key, folks.


Twenty-two. Taurus. Indonesian passport, New Zealand residence. The UI grad, UofA freshman. English literature major, films and media studies minor. Budding psychic (?). In the midst of quarter life crisis. Spoilled brat, but not rich nor rotten. Always color-cordinated. Mother tongue is Bahasa Indonesia. Travels include Japan, France, Singapore, England, Australia, Malaysia, China, and USA. Usually knows more than she lets on. Single and looking Taken. Blogging since 18. Graphic design, poetry, and photography are pastimes. Quirky. DA. LJ. More?








The rest?











Link me?

Light background

Dark background


Designed by yours truly with Adobe Photoshop 7.0 and manual HTML. Best viewed on IE 5.0 or higher, with 1024.768 resolution. The off-site links here open in new windows, so switch off your pop-up blocker. If some images won't appear press the refresh button or right click and choose "show picture". Brushes aren't mine, so if you think it's yours, don't hesitate to notify me. All rights reserved, unless started otherwise. Past layouts?

guestbook
home