just happy stuff
Baby. It talks to me. I wish I could tell you that. Yes, take me home. Take me to your grave.
Anyone remembers Freddy? The German guy I was sooo unbelievably crazy about last year. Recently Marcel (for new readers: his best mate, my best mate Orchid's ex) and I had a chat during which Marc sent me this pic...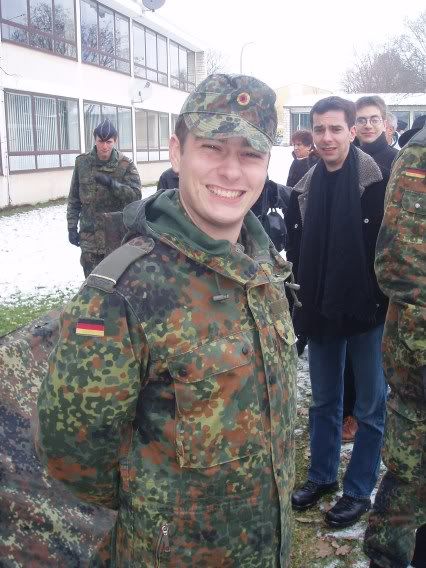 Yep, that's Freddy, grinning like the happiest bunny on earth. Joining the army is his life-long dream indeed...Oh, and do you notice the guy in a black shawl? Take a look at his facial expression. It looks like he's worried Freddy's gone mad or something. Hahaha...
I have my English 101 test in exactly five hours from now. PLEASE EVERYONE GET DOWN ON YOUR KNEES AND PRAY FOR ME AGAIN!Listening to: Girls Aloud - See The Day (I don't think these gals are talented, but nice song anyway)
Wednesday, April 5, 2006, 11:33 a.m.
|
truth or dare
Alright people...Just seen Truth or Dare: Sixth Floor Rear Flat starring Candy Lo and Karena Lam. It's one of FTVMS 205's additional flicks and I wuv it wuv it wuv it!!! It's hilarious as fuck and I so can totally relate to Karena (Karena Lam plays Karena...yes the actors play themselves in the movie because it's based on a true story, but I wonder if Karena actually wrote the book on which the story is based. There's no info on it.) Karena is just like me. A wannabe writer who's chubby and has a weakness for guys who are willing to show even the slightest of attention. Hell, whether or not you can relate to any of the characters, just see the flick and be entertained!
Oh, and around a couple years ago there was a TV series in Indo which was just a complete rip-off of the movie, starring the 2003 Gadis Sampul winner Coreanna Agashi. I'm glad the show has been long since cancelled.
Listening to: Laurie Anderson - Language is A Virus
Monday, April 3, 2006, 07:16 p.m.
|
malay food nite pix
Ok guys...no more one liners this time. I went to UMSA's Malaysian Food Night (I'm a member now!) last night and name any event in which I didn't take pictures! So yea, here are the pictures. Enjoy...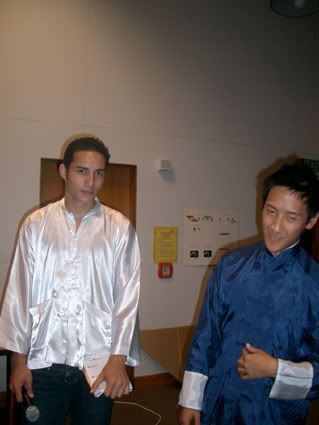 The guy in white is Caleb, who by the way is UMSA's social officer (and the event's host) despite not being Malaysian. The guy in blue is prolly in the committee as well, I don't know his name. He was trying to escape my camera, but that went in vain, as you can see.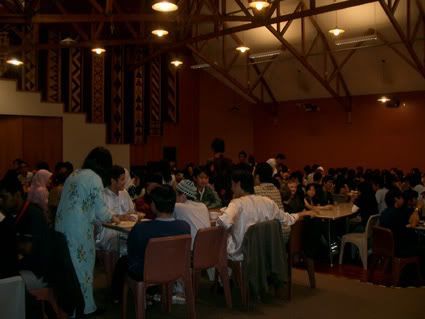 The diners, just some of them...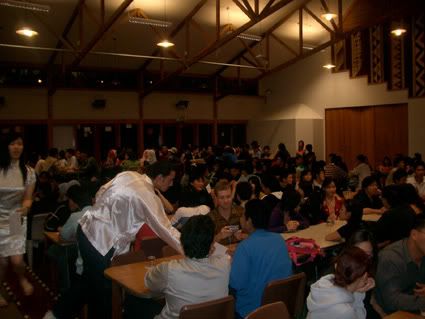 And more diners.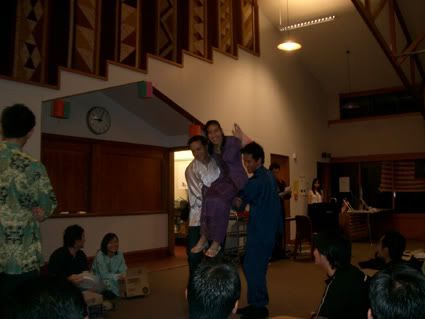 Part of the night's performance about the Baba and Nyonya history by the committee. It was hilarious, I tell you.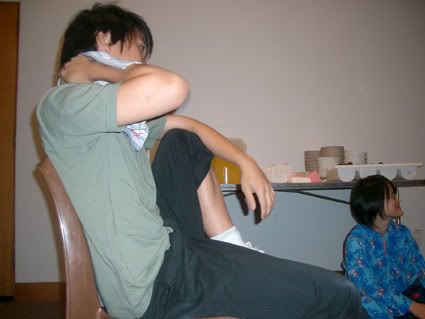 Darren while performing. He played an old-time Chinese merchant who married a Malay girl. The girl and he definitely have the talent, and the girl's got a nice singing voice too. They only need more training.
These are the guys that I teamed up with in the game session (we didn't win anything...) The white guy's name is Mike and I can't recall the two Malay dudes' names...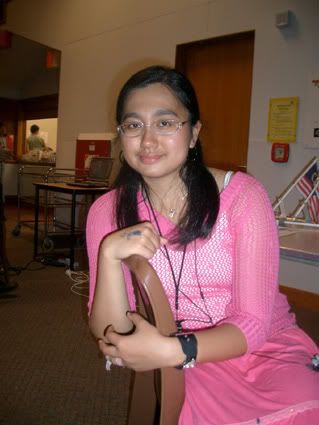 Aaaand that would be yours truly, knackered after the event. I was so tired probably thanks to my lack of apetite that night. I didn't eat well for two days (until yesterday.)Off the topic, there's a beautiful quote that I learn today, thanks to Rosemary (did you make it up or did you get from someone/place else?): if you love something, let it go free. If it never returns, you're not meant to have it. If it comes back, love it forever. I'll treat my baby just like that. From now on I'll let him run free (let's hope I can stick to my words.) If he never comes back, I'll try to forget our inside jokes, our pledge to be there for each other always, and the very fact that we did ever meet. But if he comes back, I'll never again take him for granted.Listening to: Vanessa-Mae - Love is Blue
Sunday, April 2, 2006, 04:24 p.m.
|
ho of hos
Bah. Hate the ho. Oh by the way Ho is actually her surname. How suitable.
Listening to: duh...still nuffink!
Saturday, April 1, 2006, 03:59 p.m.
|
REST IN PEACE
(insert our names here)
September 2005 - March 2006
I'm on PMS. I'm on the rag. I can revive "us" if I want to.Listening to: nothing
Friday, March 31, 2006, 04:36 p.m.
|
nyah nyah number two
Ok kiddos...I don't know, maybe the Korean saying that Ah Yong told me about is true, or maybe you guys really did pray for me...but guess what, I freaking ACED the 107 test! Yee-aay! Two essays in less than an hour and I finished both before time was up! I don't what grade I'll get, but the questions seemed easy. This is certainly the first time I really aced a test as an UofA student.
OMIGOD JEANNIE! Did you have a premonition that your laptop would be stolen? I did actually have a premonition that I would lose my cellphone last week, but as with my previous premonitions, I didn't take it seriously. But another coincidence eh (no, this is NOT a serendipity)!? We both lost our dear gadgets...Sorry to hear about the loss though.
Bah. English 101 tutorial in 10 minutes. We're most likely gonna discuss Godot again despite the fact that the two last lectures have already moved on to Laurie Anderson. I don't mind tutorials being behind, actually. I just don't like Godot...
Listening to: nothing
Thursday, March 30, 2006, 09:39 a.m.
|
<
?
kiwi blogs
#
>