minal aidin wal faizin...maafkan lahir dan batin...
Happy Eid everyone!!!! Um...according to Fianz Eid in NZ is today, we're not sure whether it's today or tomorrow. Just like the Muhamadiyah followers and government followers in Indo who always kind of fight about the correct day of Eid (Muhamadiyah's Eid is always a day ahead of the goverment's)....But it doesn't have an impact on me, whether it's today or tomorrow I'll just eat out and watch a movie in the AV library. I just stop fasting.
So...for those in Indo whose Eid is certain to be today, here's a little something for ya (and actually it's for my fellow Muslims all around the world).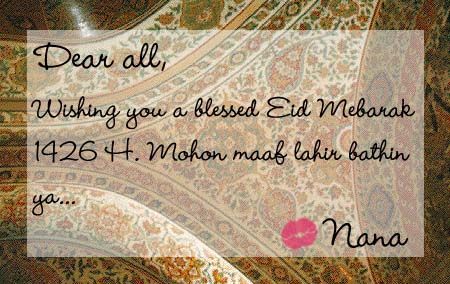 I previously sent the card via e-mail to my Indo and Malaysian mates, so pardon the Indonesian...That roughly translates to, "I beg for your sincere forgiveness." Well I haven't done translation in ages, so do FORGIVE me for the awkward translation...
A good mate of mine in Indo sent me an Eid e-card which has a quote from the Koran. Since the card is in English, the Koran quote ends with, "He who is in heaven will show mercy on you." He? When I was in Al-Azhar I was taught that Allah had no gender...
Bah! I miss Indo's Eid. I miss TV's Eid specials and the family gathering at my gran's before the roundabouts to others' places.Listening to: Cyndi Lauper - True Colors
Thursday, November 3, 2005, 08:19 a.m.
|

eeerrrmmmss...(adi mode on)
Ow yeah! Happy November everyone! LOL. New year's eve is just around the corner aye...
Something's just hit me. Dowh, remember the picture of Marcel peeking from your boobs? That is soooo similar to a picture of Andreas peeking from his ex's tummy. Now let me list the other coincidences...Both Marcel and Andreas have German mums, their ex girlfriends in the pictures are of Chinese descent! Oh well...what the hell am I doing? Gotta get back to studying films!
Talking about studying for my FTVMS 101 exam, one of the movies that's in the references is a 1970s German flick called Angst Essen Seele Auf, which I'm gonna see in the AV Library today. It's about a middle-aged German woman who falls in love with a young Arab worker. Omigod when am I ever free of anything Dietrich...
Eid here is on Friday, and there's gonna be a big gathering on either Saturday or Sunday. In all honesty I dread it. I hate my countrymen in my country and I hate them even more here. Don't ask. No reason.

Listening to: Natasha Bedingfield - I Bruise Easily
Wednesday, November 2, 2005, 09:29 a.m.
|

what i am is what i am and you are what you are or what
Can't get Kanye West's Golddigger out of my head. I've heard the song since long ago but only now that it gets stuck in my head. It's definitely because I've just found out the song features Jamie Foxx and I'm amazed by his versatility. Dude should pursue a music career as well, and I'm sure it will earn him a Grammy to be put next to his Oscar.
I did well in my English 121 exam...I guess. I think I did write a decent essay but the serious underlength will get me marked down. Oh well.
People have already decorated their houses even though Christmas is not in late next month. There will also be a grand Santa Parade on November 27 and my next door neighbours were already throwing red and green fireworks a few minutes ago! Er...can't they wait until like, say, a week before the big day? I'm afraid all the excitement will be dried up by then. But maybe it's how it is in white man lands?

Listening to: Eddie Brickel - What I Am
Tuesday, November 1, 2005, 10:14 p.m.
|

the romance is over...
Happy 23rd birthday to Reza! Wish you awesome tricks and treats...
It's been confirmed that I'll be jetting home on November 26, about four weeks from now! Woo hoo! I can't wait to have the beauty treatment that I can't afford here but always had before I left, namely creambath, pedicure and manicure...LOL. Open-unti-late malls! TA! PS! Citos! My homeboys and girls! James S! James W! Aria! Harry! Marisa! Lia! Orchid! Too many to mention! Even the traffic jams suddenly seem dear to me. However, only a short while ago I realized something that I possibly would dread more than my family crapping on me about my trouble. In Jakarta, you have to look a million bucks. You have to chill at Starbucks. You have to get the latest Nokia release. The sickening tai-tais at the malls. Rich spoilled expat brats splurging on drinks and "exotic" whores in Kemang. Fuck the superficiality. Fuck it all. But if I could endure it for 22 years, 1 month, and 22 days, I definitely can endure it for only 1 month and 8 days.
EDIT: Newsflash! Johnny has broken up with his gal! LOL. Omigod. Why am I rather happy...Maybe because if he ever asks me out, I won't need to feel guilty? Because currently there's a guy flirting with me, and honestly I like him, but he's still officially attached to his girl. Oh I don't know...but I love it when he teases me by making misinterpretations of what I say.
Fuck. I fuckin' hate UBS, the UofA bookstore. They've put ads about buying and selling second-hand text books, but when I tried to sell my linguistics and English 103 textbooks they said they couldn't buy them until there was a confirmation from the English department that the subjects will be in the next semester. And the conformation is not until JANUARY. Nice. I hear it's not the first time UBS puts out misleading ads...
Listening to: The Corrs - Old Town
Monday, October 31, 2005, 10:10 a.m.
|

india
Hokay. There's an Indian event called Diwali (not sure if that's really the name) and it's so huge half of Queen St. has to be closed. LOL. There are dance performances, and there was a group called The Bollywood Girls, which consisted of five teen girls. The girls were so good at shaking their hips they put Inul Daratista to shame, but there was only a girl who was the star of the group. She danced with obvious rigor and talent in front of her four mates, and she even lipsynced the songs perfectly! Give the girl a few years and she'll take the world by storm...
Damn! I wish I had brought my digicam! I use my Nokia 6630's camera just to take pictures of myself when I'm bored...
First exam was fine...I guess. Was asked to write four academic essays while the time was only three hours, so I missed an essay. I did make a good job with the other three, however, I hope...Well, gotta go back to studying my philosophy text for English 121 exam this Tuesday! Wish me the very best of luck!
Happy belated 23rd birthday to Nurul and Sanny (October 26 and 29)! To Sanny, I hope you had an awesome party up there with God...
EDIT: So. I came back to the Diwali with Viraj. Then we got to Aotea Centre, in which the indoor part of the event was held. There was a signing session with some famous Bollywood star inside...I can't recall his name but he has a Western first name, either David or James. Again I wish I had brought my digital camera so I could've snapped a picture or two of him. Who knows, maybe soon he'll gain international fame like Amitabh Bachan and Shahrukh Khan and by then I'll have put his pictures up with a caption that reads, "Lookie! This is the man prior to his superstardom!" LOL. Oh, and I separated ways with Viraj to meet Caleb, who was working on the first floor, but intead of meeting the hapa hunk I ran into...my films tutor. LOL. I didn't get to meet Caleb, nor could I find Viraj, given the sea of people...so I just left the event to have dinner downtown.
Oh, and still on the great Diwali. The Indians wore their traditional garb of course...and even the non-Indians went for Indian style, wearing shawls like dupattas for example. I myself wore my favorite blue Sari Nala shoes, but I didn't wear them for the occasion...Viraj just told me about it earlier today on the bus and so I just happened to be wearing the shoes.

Listening to: Lucid3 - West
Sunday, October 30, 2005, 05:26 p.m.
|