meh
Happy May everyone! Holy smokes I'm turning 23 in 13 days...
Anyway, I finally DID gather the courage to get my English 101 test result and it wasn't as bad as I predicted...a D+. I was expecting an F really. And I got the result of my Comparative Literature (Complit) 100 test as well, a C+ (really the worst mark in class.) Well I should consider myself lucky, because I didn't study for the Complit test and I wrecked my English 101 test with full awareness (but not that I did it deliberately.) But still...*sigh* I've always taken my essays seriously, but since summer school, the highest mark I've gotten is a C+. Maybe god's mad at me for having whined about my B's back last semester? Or maybe when it comes to studying, I'd better believe the proverb 'good things only happen when they're least expected'? If that's the case, then my English 107 essay, which is now done and due tomorrow, should be the last essay I put my heart into. I've started my English 101 essay, which is due this Friday, and the two paragraphs I've written so far are what you might call an academic mess. At first I intended to do this essay just for the sake of it, but then again I realized I couldn't afford to fail another paper. So yea, I guess it's better to pass with a C than have my graduation postponed.
On a lighter note, it's just downed on me that Tom looks just like Kurt Cobain! Hahahaha...
Listening to: Chris Brown - Yo (Excuse Me Miss)
Monday, May 1, 2006, 06:58 p.m.
|
cowok childish
Somebody's hurt. And the cause isn't that simple. No, no. Final words. Eat. Your. Heart. Out. Dude.
I'm really bored with this layout. I've got a birthday layout (yes, the mandatory birthday layout!) in mind, but I'm not gonna whip it out until I'm done with both my essays.
Listening to: Yulia - We're All Alone
Saturday, April 29, 2006, 01:41 a.m.
|
catching up...
Hey you guys! Missin' me yet? I've currently been busy with one of the two essays that are due in the first week after the break. I have to finish that one tonight (or tomorrow the latest) and start the other one right away. So much work.
Naim...I don't know how he's been. I texted him on Tuesday, for the first time since we got each other's number last Saturday (he was always the one who texted me.) Nothing much, just a simple, "Naeeem! Sup mate?" and I haven't got a reply. Maybe he's run out of phone credit or maybe he's too busy with his school projects...or maybe he's decided to ditch me. I refused to go to the mosque with his crowd after Rainbow's End after all, and that could be a DEAD giveaway. I don't know. I'm gonna meet him tomorrow, so we'll see.
What to do if Naim really has ditched me? No fear! There's this guy who works at the audio visual library and at the same time works on his first play...He's called Tom, and he's just graduated from my uni as a theatre major and English literature minor. He's cute, and actually I've been checking him out since God knows when, but we never got to know each other until yesterday when he opened a conversation by asking what happened to my left ring finger. But you know what I like the most about Tom so far? He's older than me! That's a breath of fresh air after a string of younger guys! Naim's 20, Caleb's 21, Freddy's 21, Jonny's 19...
And I've found a new movie to add to my fave flick list too. It's Beijing Rocks, a 2001 Mabel Cheung movie starring Geng Le, Shu Qi (envy those lips!), and Daniel Wu. It's one of my paper FTVMS 205's additional movies, and I've seen it twice at the AV library. As with most of my fave flicks, I can relate to a character, and this time it's Daniel Wu's character Michael. The son of a rich and famous architect, Michael was born in Hong Kong, raised in USA, and initially sent to Beijing to study Mandarin. One day, he made a scene at a pool place which resulted in a house arrest, and Michael escapes from it by joining an underground rock band on tour. Michael is a struggling musician, just like I'm a struggling writer (or that's what I like to call myself...I've only produced an article that I've sent to a magazine back home, and it's not published yet!) Our dads are affluent too, and we live far away from home. However, it's not Michael that I'm having the hots for! it's Ping Lu, Geng Le's character, the rock band's front man! He's a really hot devil...your typical tough guy. Oh well, you really have to see the movie for yourself! My verdict: 8 out of 10.
Listening to: nothing
Thursday, April 27, 2006, 08:05 a.m.
|
di ujung pelangi
Rainbow's End was fun fun fun. And if you think I went there only with my baby, you're dead wrong honey. We went with 13 other people, one of whom is his 16-year-old sister Sarah. As usual, pictures.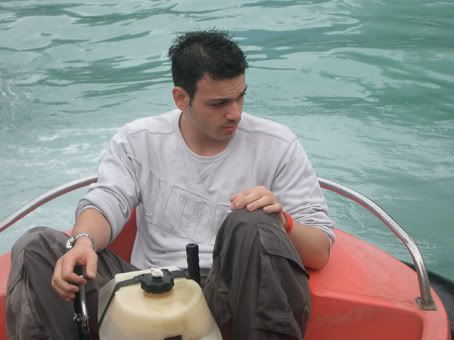 Naim (a.k.a baby (see the entry below)) while playing bumper boat. Yes this is a candid, and this is the only pic I took of him alone because I didn't want the other guys to know I was trying to take candid pics of him.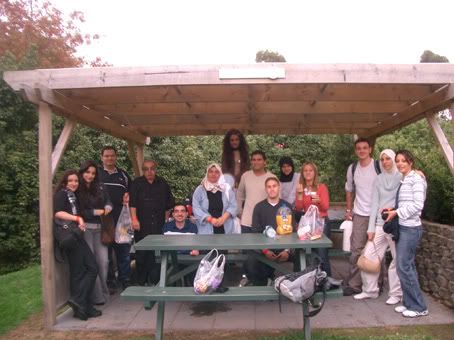 The guys, all of them. Yes they're all Arabs...Lebanese, Jordanians, Israelis...So yea, as I'm not an Arab and don't speak Arabic I was left out, but they were all nice though. And you know what, these peeps kept feeding me chocolate throughout the day!!! Cadbury, Forero Rocher, Pods, ya name it...By the way, I take it you can make Naim out by now, and the girl next to him is his sister Sarah.
This is a random kid, queueing to get her face painted. It was smart of the employees to put this tag on her back.Listening to: nothing
Sunday, April 23, 2006, 11:12 p.m.
|
urusan pulang
Can someone explain my current madness about cheese? I've always been mad about cheese ever since I was seven, but never THIS mad.
I might be spending the whole 2006 stuck in A-town. I'm least likely to go home this June and my mum's planning to visit me with the dork (a.k.a bro) and dad in November. God this is bad...I'm still hoping for a miracle though, so I can go home in June. You've no idea how homesick I am...But then again if I go home at that time I won't be able to go home again to spend summer break at the end of the year (which by the way is longer than the winter one) or my family won't visit me. Besides, even if I fly home in June we Arslans won't have a reunion anyway, because my bro's booked a flight home for August 1 and by that date I'd have to be back in Aucks because second semester starts in mid July. So yeah, it's one or the other. Or neither.
Oh, and my cousin Chrezma's getting married, and his wedding's gonna be in August. And my bro's sure gonna attend the wedding because he's coming home in August. That bugger.
Guess what, I've got myself a new baby! LOL. This guy, I actually have known him since September, but we didn't get close until four weeks ago when I'd just moved to my new house. He works the weekend shift at the dairy near my bus stop, and so every weekend I always hang out with him at his dairy while waiting for (the last) bus. LOL. And we enjoy each other's company very much. Oh and...you know what, being a total hunk, he always prided himself on never asking girls for their numbers, but yesterday HE ASKED ME FOR MY NUMBER!!!! And he asked me out too! Woo hoo!!!! So yea, tomorrow we're going to this amusement park called Rainbow's End...As for my previous baby? He's as useless as the next pile of garbage.
Listening to: nothing
Saturday, April 22, 2006, 11:57 p.m.
|
<
?
kiwi blogs
#
>