the german edition
Fraulein Angie, it's not my fault that I'm surrounded by all the things German! LOL. The first mates I made here are German, and boy, have I just realized that most of the youngsters in the Indonesian community are half or part German! Bah. I've got more than enough of Dietrich stuff in Indo! German crushes (Freddy (full), Daniel (full), Andreas (half), Anton (half), and Yasrif (half)), German minor back at The UI that I failed, German-made rides in Dufan, half German bezzie mates (waves to Marie, Andreas, Aiko, Marcel, and James (he's part))...And I never plan any of this, so here I am wondering when this German brouhaha will end. Oh, and did you know some (or most?) cafes here have German mags? You know...German Cosmopolitan, German Vogue...
Oh well. I need to get my life in ordnung.
EDIT: I. Called. Him. Yeh yeh I don't know what I was thinking either, but it was really a spur-of-the-moment thing. He wasn't there, so I left a message on his answering machine. As I regret making the call now, I hope I dialled the wrong number because the voice in machine really isn't his. It's got a Kiwi accent and the dude says his name's Kevin or Stephen...
You...take life seriously and accuse us of "treating life like a toy"? Seriously dude, that's the funniest joke I've ever heard. Yea yea...people who take life seriously get stone drunk on weekends and have protection-free one-night-stands. Listening to: Hayley Westenra - Ave Maria
Friday, September 2, 2005, 08:52 a.m.
|

sigh II
Yeh of course he's got more experience. Dude's older than me. He's 25...maybe going on 26.
So. I got Casey's number from a mutual mate yesterday. Nonetheless, even though now he's just a phonecall away, I can neither call nor text him because he'll think I'm a serious stalker...He's probably aware now that I've started to kinda stalk him by adding him to my MSN and e-mailing him. Stiff luck, stiff luck, when will I ever be rid of thee...
I watched The Princess Diaries: Royal Engagement on DVD yesterday and although the movie is good because it epitomizes every girl's dream I couldn't help noticing imperfections in the setting. For one, the people cheering the royals are too few, even for such a tiny country like Genovia (yea I know it's a make-up country but well...), and it's said that people all over the country gather to witness the royal occasions. I believe Monaco has far more people! Plus the church and the court are too simple.
SEE MR. JONATHAN CURRIE, I AM OBSERVANT!
What is this with all these Germans flooding my site? I got a feeling that they're...nevermind. Well I do have something to say to them. Ich kann auch spreche Deustch, albeit little, and for Gott's sake enough with the joke!
Happy September everyone!
EDIT: My second poem about Casey is up here. I wish I could text him about it...Oh and take my quiz too!

Listening to: Lindsay Lohan - I Decide
Thursday, September 1, 2005, 01:47 a.m.
|

the love-sick entry
You know what I hate? And I'm sure girls not blessed with great beauty can relate...I hate it when I tell a pal how I make the first move on the guy I like, like making the first call, and s/he will be like, "Girl, what are you thinking?" Oh relax it's just a call, I did, do, and will not ask him out and I only ask him about his marital status after we've known each other a bit better.
Times like these, I hate being a girl. You're expected to sit and wait for the guy you like to call and ask you out. This only happens when you're lucky, unless you're Alexis Bledel. Most of the time you wonder how you will attract your crush, to let him know you're more than meets the eye, without people thinking you're corny. So you decide to go little by little and he's giving you good response (still if you're lucky), but then you find out you're just not his type, or worse he confides in you that he's having the hots for another girl. That's when your world falls apart, your friends are giving you the "I told you so" advice (sometimes patronizingly) and while you pull away from the guy, he might sense it and feel sorry for you but all the same he's got a winning "I just broke her heart" grin ear to ear. Sigh. Sick sad world.
But you know something? We just can't wait. Yes we might have freedom in careers and eduction and family life, but why the fuck can't we get that in love? Can't we make the first move, whatever lengths we go into, without being judged? We just can't sit and wait and watch our guys flirt with other girls, while there are better ones - us - around. And don't you dare tell me not to worry because my prince will come along. You mean when I'm 50? I'm dead sick of it.

Listening to: Secret Garden - The Reel
Wednesday, August 31, 2005, 04:17 a.m.
|

sigh
Alright, new layout. Like or not? LOL. I've got nothing to blog about, but yea, here's a pic from the independence day celebration.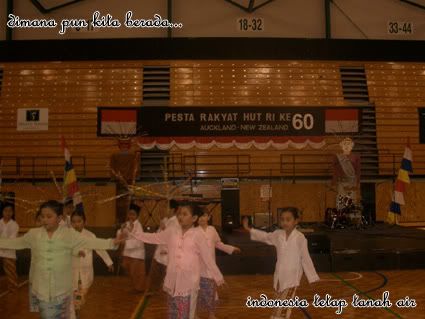 Anyway, I've just realized that I've let two tutors and an AUSA officer on about this blog, and I rambled a lot about Casey in the entries which are just archived. What if my crush on him leaks to the whole school? What if people at school start grinning at me after the break is over? Oh well...what do I care. They might have clicked, but my entries are long-ass they turned them off.
Secret Garden really never ceases to amaze me! Their instrumental songs are simply beautiful, and the ones with lyrics are soothing (did you know that Josh Groban's You Raise Me Up was originally performed by them?). At the moment I'm in love with their second lyrical lullaby, Sleepsong (as if that's not self-explanatory enough! LOL). The lyrics go as follows.Lay down your head
And I'll sing you a lullaby
Back to the years
Of loo-li lai-lay
And I'll sing you to sleep...
And I'll sing you tomorrow...
Bless you with love
For the road that you go
May you sail fair
To the far fields of fortune
With diamonds and pearls
At your head and your feet
And may you need never
To banish misfortune
May you find kindness
In all that you meetMay there always be angels
To watch over you
To guide you each step of the way
To guard you and keep you
Safe from all harm
Loo-li loo-li lai-layMay you bring love
And may you bring happiness
Be loved in return
To the end of your days
Now, fall off to sleep
I'm not meaning to keep you
I'll just sit for a while
And sing loo-li lai-layListening to: Secret Garden - Sleepsong
Tuesday, August 30, 2005, 04:00 a.m.
|