oahm...
You know, I'm the perfect epitome of "shit happens." Seriously. Let's see, in the past month I have (in chronological order)...
- Lost my MP3 player
- Been mugged, lost my cellphone, and broken a finger (all happened on the same day, so they count as one)
- Had a tuition fee payment issue (which was actually not that big, but enough to freak the shit out of me. It's settled now.)
And all those happened in ONLY A MONTH'S TIME. Man oh man...*shakes head...*
I'm so loving You Tube and currently I'm using it for both nostalgia and curiosity purposes...


That's Korean popstar Lee Hyori. She would take off the white tank top to bare her tummy if she were dressed that way, but this is not a real person anyway...She's a paperdoll which is totally under your thumb.
Listening to: nothing
Wednesday, April 12, 2006, 09:24 p.m.
|
balik indo...
I've never been that impulsive in my entire life. Long story.
Mid semester break is almost here. My good mate Vanya is off to Indo tomorrow, my cuz Khansa and her dad are off to Indoland the day after. Lucky, lucky.
Speaking of going homeward, remember Wayne, one of my auntie's helpers at her restaurant? Dude's done with ELA, the lingo school run by my uni, and he had an IELTS test around two weeks ago. His score is only 6.5 - one point short of my uni's minimum IELTS score for any master's degree entrence - and Wayne's so disappointed by it he's actually thinking of going back to Indo...for good, despite the fact that deep down he dreads coming home. Seriously, he should've applied to other unis as back-ups, but apparently he's one of those who don't settle for second best. I feel sorry for him though. My aunt's been trying to hook him up with a local gal, and a friend of hers is trying to talk him into either applying to another uni or taking another IELTS test, all to make him stay. However it seems like his mind is really made up because when I ran into him today in town, he said he was on his way to a travelling agency book a one-way ticket to Indo. I don't know how things are going right now...Maybe he's changed his mind?
Listening to: Shakira feat. Wyclef Jean - Hips Don't Lie
Monday, April 10, 2006, 08:52 p.m.
|
lahlahlah


Hahahah my typical paper doll attire...Listening to: Mustafa Sandal - All My Life
Sunday, April 9, 2006, 04:48 p.m.
|
paper dolls are back
Think I'm over my paper doll craze? Think again.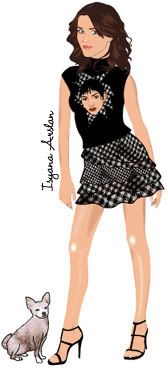 She'd be perfectly anti her Legally Blonde persona if that dog weren't there. I hate Legally Blonde movies. Yes yes I can always erase the damn dog on Photoshop, but I'm too lazy for that.
This is already April and I might go back to Indo for holidays in June!!! Woohoo! Come to think of it, I can hardly believe it's been 3,5 months since I came back to Auckland. And I hardly ever get homesick too! Almost 4 months have gone by and suddenly it's almost time to go home again. Time flies so fast when you're
having fun
busy.Listening to: nothing
Saturday, April 8, 2006, 05:08 p.m.
|
test report...
YEEEAAAYYY! My Comparative Literature test was sooo smooth-sailing. I even had time to proof-read the essay twice! Woo hoo...Thanks for all who've prayed and most definitely God for answering my (and their) prayers!
Baby. I'm giving you time to mature. I'm waiting for you to grow up. That's why I'm not talking, just in case you're wondering.
Listening to: nothing
Friday, April 7, 2006, 01:43 p.m.
|
just jotting down some thinking...
Hokay. The test yesterday was smooth-sailing, but I made two big, dumb mistakes that I didn't realize until long after the test was over. Don't ask.
My bimonthly allowance just arrived yesterday and already I've blown around $150. Also don't ask. And sometime soon I'll have to spend around $100 for my wireless modem. Ick.
You know what I hate? When I speak English there's always a part of my speech in which I get either tongue-tied or a tongue twister and the latter results in either a stutter or grammatical errors. But! Believe it or not I HAVE dreamt in English, twice if I'm not mistaken.
And! Last but not least. I have another test tomorrow, Comparative Literarure 100. I seriously don't know what to study (despite never missing a single class) so I seriously beg you to kneel once again and pray for me. Pretty please?
Listening to: Lee Hyori - Get Ya (a.k.a the Korean version of The Spears' Do Something)
Thursday, April 6, 2006, 06:09 p.m.
|
<
?
kiwi blogs
#
>